Here's a quick idea for a light lunch or appetizer — Pizza Bread.  This versatile recipe is great for lots of occasions.  Last week I served this for a light lunch.  Add a salad and one loaf could serve 4.  However, I usually serve it as an appetizer…. and it couldn't be simpler! Just top the pizza dough with your favorite pizza toppings, sans sauce, roll it up, bake, slice and enjoy.
The recipe, below, is a pretty simple base – pepperoni and mozzarella cheese – but oh, the possibilities! How about pancetta, carmelized onion and gorgonzola? Or go mexican with mexican beef, monterey jack and jalapenos- with salsa for dipping. You can add any toppings you like, just be sure to drain your toppings well.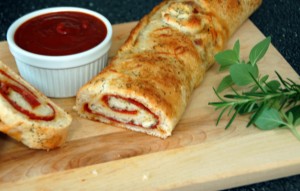 Pizza Bread (makes 1 loaf)
Ingredients:
1 roll frozen pizza crust dough
Sliced pepperoni
1 cup grated mozzarella cheese
1 egg
Dried italian herbs
1 small can of low salt tomato sauce
1/2 tsp minced garlic
Instructions:
Preheat oven to 375 degrees F.
Spread out the dough on a greased jelly roll pan.
Make an egg wash by mixing the egg with a little water, brush half the wash over the dough.
Sprinkle the dried italian herbs over the dough.
Place the pepperoni slices, edges touching, over the dough.
Sprinkle the cheese over the pepperoni.
Roll up the long side of the dough and pinch the ends.
Please  the dough crease side down on the pan.
Brush the roll with the remaining egg wash and sprinkle with more herbs (or poppy or sesame seeds.
Bake for 15-25 minutes until brown.
While the bread is baking, heat up the tomato sauce, garlic and more italian herbs- for a dipping sauce.
Remove loaf from oven, slice and serve with the sauce.