On my last post I shared a quick Jerk Chicken recipe,using those wonderful thinly sliced chicken breasts.  I served them with this Pineapple Salsa.  So fresh – it's a wonderful combination of sweet and spicy.  This is sure to be a summertime favorite as it's a great side with any grilled meat or fish.
This recipe is super easy to prepare.  Just finely dice a few ingredients and stir in some cilantro paste.  No, I'm not paid by Gourmet Garden,  I just love their herb pastes, especially the cilantro paste.  I don't know about you, but it seems like the cilantro from the store, dies on the way home!  This paste is an easy way to add great cilantro flavor, straight from the fridge.  I keep it at the ready year-round – in the winter for chili and in the summer for mexican dishes and dips.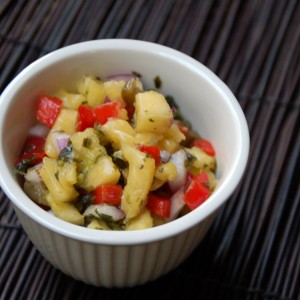 Ingredients
1 cup pineapple, finely diced
1/3 cup red pepper, finely diced
1/4 cup red onion, finely diced
4 slices pickled jalepeno, finely diced
2 tsp cilantro paste
Instructions
Combine all ingredients in a bowl.
Cover and refrigerate until ready to serve.
http://ascrumptiouslife.com/pineapple-salsa/
.