The most viewed post here on 'a scrumptious life' is "Margaritas for a Crowd" and not by a little – by alot!  So, I've been meaning to share this similar idea for Pina Coladas for a while. Well, today's the day!
Why post this now?  I mean, it's October – shouldn't I be blogging about pumpkins and sweet potatoes?  Well, I'm on a Caribbean cruise this week and I'm sure I'm enjoying some tropical drinks.  So, please join me – for a drink, not on the cruise.
Anyway, this is a pretty flexible recipe. I've pureed the pineapple.  If you want a chunkier drink (but it might be a challenge with a straw) then don't puree.  It you want a smoother drink, then use more pineapple juice instead of pineapple.  Try different rums – this recipe is from the old days when there was only light and dark rum.  Nowadays, they have coconut and pineapple rums. (Like I need to tell y'all that).  I used a pineapple and coconut rum in my batch.  As with the margaritas, I suggest that you freeze the mixture in multiple containers and serve in several batches rather than in one huge batch, to keep the drinks frostier longer.
Remember to Pin this post, so in January, when you're REALLY wishing you were on an island, you can make a batch (which makes 30 cups, btw), crank up the heat, put on some Bob Marley, and pretend  you're ……………………….here, here or here.
And if you are disappointed that this is not a post about pumpkins or sweet potatoes – follow these links and watch this spot – there's time enough for that, when I return.
Bon Voyage! (Can I say to that to myself?)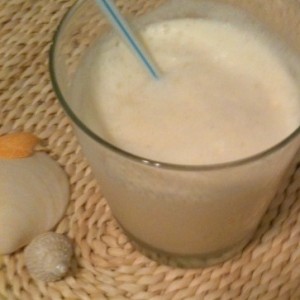 Ingredients
1/2 gallon vanilla ice cream, softened
1 - 20 oz can crushed pineapple, pureed
1 - 8 oz can cream of coconut
1 46 oz can pineapple juice
3 cups rum
1 - litre bottle lemon lime soda
Instructions
Mix all the ingredients, except the soda, in a plastic container(s).
Freeze at least 4 hours (preferably longer) until the mixture is slushy.
Put the slush into a punch bowl and add the soda.
Stir to combine and serve.
http://ascrumptiouslife.com/pina-coladas-for-a-crowd/