Picnic season is here!  Where do you like to picnic?  At the park, beach, tailgating at a ballgame or fireworks show?  At a rest stop on the way to your vacation destination?  Maybe on a blanket in the backyard?   Perhaps at an open air concert – my favorite! 
This recipe is a great dish for taking 'on the road'.  It has always been one of my favorite chicken dishes. Growing up, my mom served it warm, with mashed or scalloped potatoes, for a wonderful comfort meal.  But it's also great cool or at room temperature – making it a great pick for a picnic.  I usually use halved chicken breasts, but it's also good with chicken tenderloins, which kids love.  Try the tenderloins on a salad. Yum!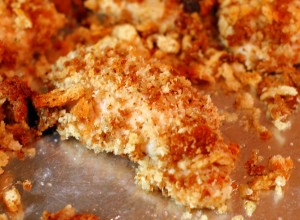 Picnic Chicken
Ingredients:
1 1/2 lbs chicken breasts, cleaned and cut into preferred portion size
1 stick butter
Pepperidge Farm Herbed Stuffing Mix
Instructions:
Preheat oven to 375 degrees F
Melt the butter in the microwave, in a medium size bowl.
Place the stuffing mix in a gallon ziptop bag. Crush the stuffing with a rolling pin to break up any large pieces.  (This method provides a more rustic crust than using a processor.)
Dip both sides of the chicken pieces in butter and toss in the stuffing mix.
Place the chicken in a single layer in a baking dish or sheet.  Drizzle the remaining butter and some of the leftover stuffing over the chicken.
Bake for 30 minutes.
Serve warm or cold.
Btw- this recipe works great with pork chops too! Althought I usually serve the pork warm.