I love having friends with gardens.  You know, I live in a condo with nowhere to have the herb garden of my dreams.  So, how excited was I to receive some basil from a friend last week!  I ran right home and made some pesto. This recipe makes 1 1/2 cups, so I froze it in three 1/2 cup portions.  I love to keep some pesto in the freezer, so I can jazz up recipes in a jiffy.  Pesto is so versatile – here are some easy ideas:
Add to sour cream , for a quick dip.
Spread over cream cheese and sprinkle with pine nuts for an easy appetizer.
Add to hot pasta – either straight with tomatoes and yellow peppers or add it to a cream sauce.
Stir it into cold pasta for a fabulous pasta salad.
Use it instead of a tomato sauce on pizza
Add a little to mashed potatoes
Just remember, a little goes a long way!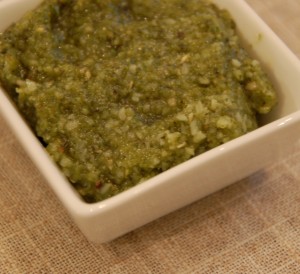 Ingredients
1 1/2 cup basil leaves
3 cloves garlic, minced
1 cup pine nuts
1/2 cup olive oil
1 cup Parmesan/Romano cheese, grated
salt and pepper
Instructions
Put the basil, garlic and nuts into a food processor and process until pureed.
With the processor running, stream the oil into the basil mixture.
Add the cheese and pulse until combined.
Taste and season with salt and pepper, to taste.
http://ascrumptiouslife.com/pesto/