Today, like 476 other bloggers, I'm posting my recipe for the Great Food Blogger Cookie Swap. In it's 5th year, this swap, organized by Lindsay and Julie, is a fundraiser for Children's Cancer.  The premise is simple, but I can imagine the behind-the-scenes logistics can be a nightmare, with so many participants. Each blogger is provided with 3 other bloggers' name and address.  Each blogger makes a new (to their blog) cookie recipe and mails  a dozen of the cookies to the three bloggers they  were assigned.  What fun to get all those cookies in the mail – do we every get over the thrill of a package in the mail?!  I know I don't.
The sponsors of the swap are OXO, Dixie Crystals and Land O'Lakes, who also contribute to the cause….. and OXO sent their 7 piece liquid measuring set to all participants – what a great idea!  I've already used them several times. Not to be outdone, Dixie Crystals sent us a silicone baking sheet- score!
Since they have to be mailed, choosing which cookie to bake for the swap is always a dilemma.  This year I originally decided to go traditional and make gingerbread cookies. I baked them and stored them in an airtight container. The next day I made the frosting and discovered two things– – 1)the cookies were already hard after one day and 2) my cookie decorating skills need vast improvement. A five year old would have done a better job. So, on to plan B! 
For the last few years I have hosted a cookie swap. Because some of us are foodies we do try to do some fairly complicated cookies. But two years ago, my sister-in-law made these wonderful peanut butter cookies with the Hershey's kiss on top. Nothing crazy, just a good classic cookie. Well they were everyone's favorite! So those became Plan B – Peanut Butter Kiss Cookies.  But, honestly, these are so tasty I should have baked them in the first place!!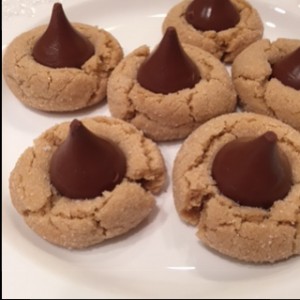 To make them, you make a cookie dough, roll the dough into balls, roll the balls in sugar and bake – then, as soon as they come out of the oven top the cookie with a Hershey's kiss. The recipe says the yield is 24-30 cookies, but I made just over 36 – enough for my bloggers and a few to taste (yes, a dirty job, but someone has to do it!).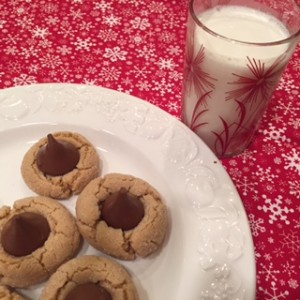 ….and I must say – make sure you've got milk in the house because it's the perfect match for these cookies!!
To pack them, I bought some plastic containers  from the Dollar store and lined them with parchment paper.  I placed wax paper between the cookie layers and added a pack of festive napkins as a surprise. I then packed the cookie box into a mailing box surrounded with bubble wrap and wrapped the box with brown paper. Fingers crossed!! I was thankful to hear that they made it to their destinations, without too much injury.
Oh – and what did I get?
Peanut M&M Holiday Cookies from @Reniaeats, Browned Butter Slated Caramel Mocha Cookies from Fantastical Sharing and Thin Mints from (I lost the name!!, sorry) They were all delicious – thanks ladies!!
Look for all the cookie recipes in round-up posts on Love & Olive Oil and The Little Kitchen, next week.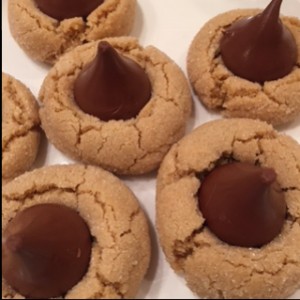 Peanut Butter Kiss Cookies
Ingredients
1 3/4 cups all-purpose flour
1 tsp baking soda
1/2 tsp salt
1 cup sugar
1/2 cup packed dark brown sugar
8 Tblsp (1 stick) unsalted butter, cut into small pieces
1/2 cup smooth or chunky peanut butter (not natural)
1 large egg
1 tsp pure vanilla or almond extract
30 chocolate kisses, unwrapped
Instructions
Position a rack in the upper third of the oven and a second rack in the lower third then preheat to 350°F.
In a large bowl, sift together the flour, baking soda, and salt. Set aside.
Place 1/2 cup sugar in a small bowl. Set aside
In the bowl of a stand mixer fitted with the paddle attachment, combine the remaining 1/2 cup sugar with the brown sugar, butter, and peanut butter and beat on medium speed, scraping the bowl occasionally, until light and fluffy, 2 to 3 minutes.
Add the egg and vanilla or almond extract and beat on medium until fully incorporated, about 1 minute.
With the mixer on low, add the flour mixture, a third at a time, and stir until just combined.
Roll the dough into walnut-size balls, roll in sugar, and arrange on baking sheets, leaving about 2 inches between cookies.
Bake, switching the cookies between the upper and lower racks about halfway through baking, until just starting to brown, 8 to 10 minutes.
Remove the cookies from the oven and press a chocolate kiss into the center of each.
Cool the cookies on baking sheets for 10 minutes before transferring to a wire rack to cool completely. Continue baking cookies on cooled baking sheets.
Store in an airtight container at room temperature.
Notes
http://www.epicurious.com/recipes/food/views/laurens-peanut-butter-kiss-cookies-368711
http://ascrumptiouslife.com/peanut-butter-kiss-cookies/