Peanut butter and Jelly.  For some, a quintessential childhood lunchtime memory.  For me not so much….. brought up British, honestly it was not even on my radar!  Still, for most, just the mention of PBJ brings out the kid in them (just like pigs in a blanket). So when I made these Peanut Butter and Jelly bars, recently – what a hit!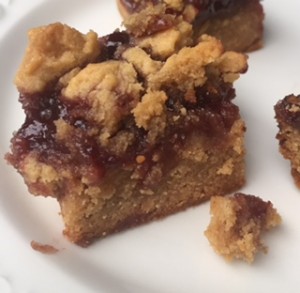 This Ina recipe features PBJ in dessert form.  Layers of peanut butter cookie and seedless raspberry jam, topped with a crumbly cookie layer. YUM!!  The original recipe calls for chopped salted peanuts on top.  Since I didn't have any peanuts on hand, I substituted with a little sprinkle of coarse sea salt.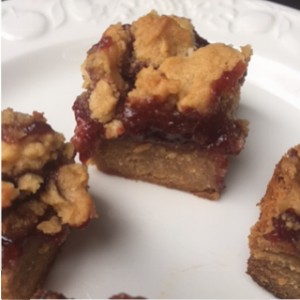 The recipe says it makes 24 bars.  Since I was serving these as part of a buffet, I cut the bars into 2-bite sized squares, and got considerably more.
What a nice treat for a lunch bag… whether  it's your kids' or your own!
Peanut Butter & Jelly Bars
Ingredients
2 sticks unsalted butter, at room temperature
1½ cups sugar
1 tsp vanilla extract
2 eggs, room temperature
1-16 oz jar creamy peanut butter
3 cups all-purpose flour
1½ tsp kosher salt
1 tsp baking powder
1-18 oz jar seedless raspberry jam
¼ - ½ tsp coarse sea salt
Instructions
Preheat the oven to 350 degrees. Grease a 9 x 13 x 2-inch baking pan. Line the pan with parchment paper and spray the paper as well.
Cream the butter and sugar on medium speed in the bowl of an electric mixer, fitted with the paddle attachment, until light yellow, about 2 minutes.
Add the vanilla, eggs, and peanut butter. Mix until well combined.
In a small bowl, sift together the flour, baking powder, and salt. With the mixer on low speed, add the flour mixture to the peanut butter mixture, in thirds. Mix just until combined.
Spread two thirds of the dough evenly in the prepared pan.
Spread the jam evenly over the dough.
Drop small globs of the remaining dough evenly over the jam. (Don't worry if all the jam isn't covered.) Sprinkle with the coarse sea salt.
Bake for 45 minutes, until golden brown.
Cool completely (or the jelly will still be HOT!) and cut into small squares.
Notes
http://ascrumptiouslife.com/peanut-butter-jelly-bars/