On  my last post I shared two books I've read this summer. Today I'm sharing a recipe for the Peach Iced Tea I often sip while I'm reading and some photos of my favorite reading spot – my porch.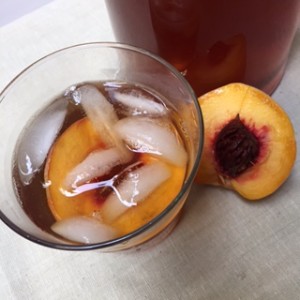 The recipe is quite easy – First I make a peach sugar syrup by heating up water, sugar and some sliced peaches and let it steep for half an hour.  I love the color of the syrup!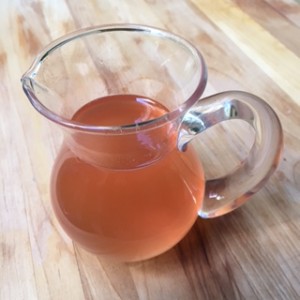 Then I brew the tea using 8 cups of boiling water and 4 tea bags for 3-4 minutes. The secret is not brewing the tea too much, or  the peach flavor gets lost. I serve it in a pitcher with extra peach slices and lots of ice. It's so refreshing!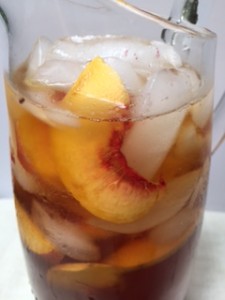 Ingredients
Syrup

1 cup water
1 cup sugar
2 peaches, thinly sliced

Tea

8 cups water
4 regular teabags
peaches for garnish
Instructions
Syrup

Heat the water, sugar and sliced peaches in a saucepan. Stirring and pressing the peaches until the sugar has dissolved.
Set aside to steep for at least 30 minutes.
Strain the mixture into a container and refrigerate until needed.

Tea

Boil 8 cps of water.
Add the teabags and steep for no more than 4 minutes.
Set aside to cool.
Refrigerate until needed.
Pour the tea into a pitcher and add the peach syrup to taste - starting with 1 cup.
Serve with ice and sliced peaches.
http://ascrumptiouslife.com/peach-iced-tea/
Here are the photos of my favorite summer reading spot – my porch. It's a condo porch (aka small!) but it's covered, so I can sit out there even when it's cool or raining.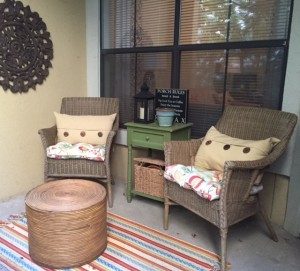 I love the bright colors of the rug and cushions!  Every room  needs a little storage – this tiny table and basket hold my gardening tools, coasters and ashtrays (as any smoking must be done outside).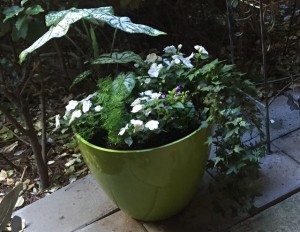 Every summer I switch something up – buy new cushions, add a rug, change out the coffee table – this year I switched out some old pots to these apple green planters. They are so fun and bring out the greens in the table, rug and cushions.
I went with a classic green and white theme with the plants this year – impatiens, ivy, asparagus fern and caladiums…. a one little purple flower just for fun.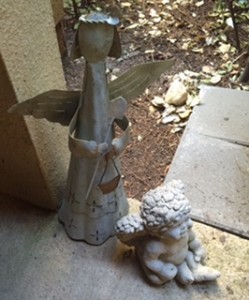 My porch angels.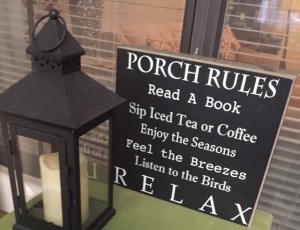 A favorite find from All Inspired Boutique, a really cute shop in Duluth Ga (and online). This fun plaque sums up my porch perfectly!