Sometimes you just want a little nibble.  Say you and your friends are going out to dinner and just gathering at your place beforehand OR you're hosting Thanksgiving and you don't want everyone filling up on appetizers before the big meal.
Well, here's a fabulous idea – Parmesan Thyme Crackers.  It's an Ina recipe I've been meaning to try for some time.  Tasty, buttery, crumbly…. and so easy.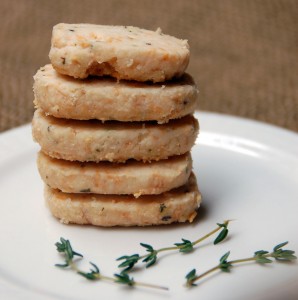 Here's a close up.  You can see that using fresh thyme is really recommended. here.  You want enough leaves to see them in the crackers.  You'd lose that effect if you only used 1/3 tsp of dried thyme.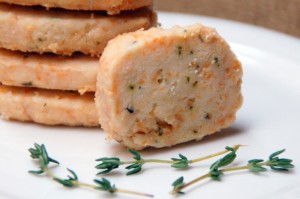 Actually, they remind me of these Olive Bites.  Serve them on their own or next to bowl of olives and you're good to go!  I served them  in this compote dish I brought home from Italy. Perfect!  Keep it simple by serving with a white wine or Prosecco.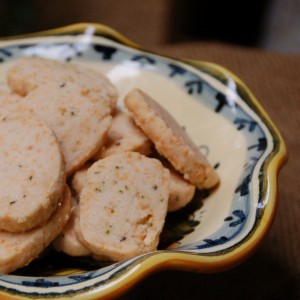 Ingredients
1 stick butter
1 1/4 cups flour
3 oz grated Parmesan cheese
1 tsp chopped fresh thyme
1/2 tsp salt
1/4 tsp black pepper
Instructions
Cream the stick of butter in an electric mixer, using the paddle attachment.
Add the remaining ingredients and mix until combined.
PU the dough on a plastic wrap and roll into a 13 inch log.
Wrap the log with the plastic wrap and freeze for 30 minutes.
Preheat the oven to 350 degrees F.
Take the log out of the freezer and slice it crosswise into 1/4-1/2 inch slices. (approx. 30 slices)
Place the slices on a parchment lined sheet pan. and bake for 22 minutes.
Remove crackers from the oven and cool on a wire rack. Store in an airtight container.
Notes
Recipe from Ina Garten, the Barefoot Contessa
http://ascrumptiouslife.com/parmesan-thyme-crackers/
things simple be serving with