I can't believe I'd never made polenta- especially when I found out how easy it was! As I often do with new cooking adventures, I went to Ina – well, her cookbooks – and found her recipe for Creamy Parmesan Polenta in "how easy was that?".  The addition of Parmesan, right at the end, is what makes it "Parmesan",  so it's a great basic recipe on which to build.
This is one of those recipes, like risotto, that requires constant stirring – But, it's only 10 minutes. Call me crazy, I find it relaxing. It makes a great side with slow cooker dishes like ragouts or stews, so while it needs constant attention, it will probably be the only dish you'll be cooking at the last minute. If you are making other dishes at the same time, assign the stirring job to a guest.
You know there are two camps, concerning polenta – thicker and creamier.  Despite its name, I found this recipe to be thicker.  Now, perhaps this is because I didn't serve it immediately.  It did have to sit through its photo shoot (which wasn't long).  So, you either need to serve it right away or add another cup of broth to the recipe for a creamier consistancy.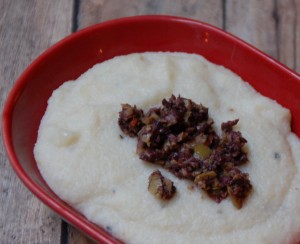 Ingredients
4 cups chicken stock
2 tsp minced garlic
1 cup cornmeal
1 Tblsp kosher salt
1 tsp ground black pepper
1 cup freshly grated Parmesan cheese
1/4 cup creme fraiche or sour cream
2 Tblsp unsalted butter
Instructions
Place the chicken stock in a large saucepan.
Add the garlic and heat on medium high until the brothis at a boil.
Reduce the heat to medium low and slowly add the cornmeal, whisking constantly to avoid lumps.
Add the salt and pepper and stir constantly for 10 minutes, using a wooden spoon, until the mixture is thick.
Remove the saucepanrothe heat and stir in the cheese, sour cream and butter.
Taste for seasoning and serve immediately with extra Parmesan cheese to sprinkle on top.
Notes
Use 5 cups chicken stock, instead of 4, if you like a creamier consistancy. Ina prefers medium yellow cornmeal. I used fine white cornmeal, because that's what I had, and it worked fine.
http://ascrumptiouslife.com/parmesan-polenta/