A couple of weeks ago I was hit, hard, with fall allergies. I apparently wasn't thinking clearly because upon returning from the store, I put the frozen tuna steaks from Trader Joes in the refrigerator instead of the freezer. Later that day, I realized they'd already defrosted and I had to come up with a recipe – fast! Sometimes necessity is the mother of invention.  Here's  what I came up with – Panko Crusted Tuna.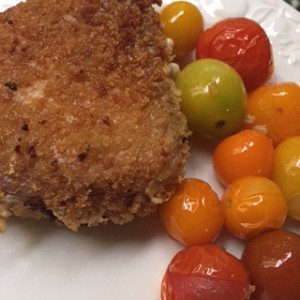 I started by marinating the tuna steaks in soy sauce, sesame oil, ginger and garlic.  I then, rolled the steaks in panko breadcrumbs and cooked them in some olive oil in a saute pan- 3 minutes on the first side, and 1 minutes on the second side. I covered the pan, lowered the heat and cooked for a minute or two more.  I served them alongside some fabulous heirloom cherry tomatoes, which I tossed with olive oil, salt and pepper and roasted for about 20 minutes, until their skins began to pop.  I just love all the  color on the plate!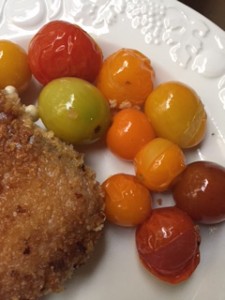 There you have it – who said delicious needs to be complicated?
Ingredients
2 tuna steaks (approx 3/4 lb, total)
1 Tblsp soy sauce
1/2 Tblsp sesame oil
1/4 tsp minced garlic
1/4 tsp ground ginger
1/2 cup panko breadcrumbs
2 Tblsp olive oil
Instructions
Place the thawed tuna steaks in a plastic bag . Add the soy sauce, sesame oil, garlic and ginger and marinate for 15 minutes.
Remove the tuna form the marinade and coat (all sides) with the panko breadcrumbs.
Heat the olive oil in a saute pan and cook the steaks for 3 minutes on the first side. Flip and cook for 1 minutes on the second side. Cover the pan, turn the heat to medium and cook for 1 minute longer.
Remove from heat and serve.
http://ascrumptiouslife.com/panko-crusted-tuna/