I don't know about you, but I'm not a big sandwich person – at home. Ham, cheese, mayo, bread – yawn…….  But make it a panini and suddenly I'm all about the possibilities !
The word panini is actually italian for  little breads – and this is a good point to make.  Paninis not have to be 2 inches tall – like something from the Carnegie Deli – in fact, how would you press something so thick without everything spilling out the sides – so a few select flavorful ingredients are best here. When I visited Italy several years ago,their paninis were much thinner sandwiches, than their american counterparts (perhaps a lesson here?), and they weren't always toasted, but here in the states the term panini has come to mean a specifically toasted , pressed sandwich.
It seems to me that there are a few basics regarding paninis:
 Have fun — use a  'fun' bread – cuban bread, pumpernickel, focaccia, onion roll, but not too thick, to aid pressing
Think out of the box – Use some kind of relish, sauce, preserve, sweet with savory
Use cheese – again, be imaginative- no american slices here, go for full bodied tastes.
I imagine I'll be making more paninis because  I finally invested in a Cuisinart Griddler.  I've wanted one for a while because it's a multi function appliance. (My kitchen its too small for one use gadgets)  The Griddler can be a grill, a griddle and more importantly for this post – a Panini maker. Dont' worry if you dont' have one, just use a fry pan and something heavy, like a cast iron saucepan (or even a foil covered brick) to weigh  down the sandwich.
Today's combination comes from a chicken dish that I love – Chicken breast rolled with  prosciutto , cheese and basil cooked in a little sherry and chicken broth. I'm sure I'll be coming up with all sorts of different combinations, as I break in my new toy….  What are your favorite panini combinations?  I'd love to hear about them!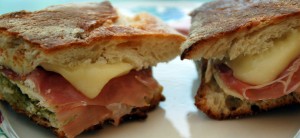 Spring Chicken  Panini (1 serving)
Ingredients:
1 ciabatta roll cut in half , horizontally
 1 Tblsp prepared pesto
 1/2 chicken breast, cooked, thinly sliced
 1 slice of prosciutto
 1 slice of fontina cheese
Instructions:
Spray the panini maker with cooking spray and heat it up to high heat.
Spread the  pesto on the bottom half of the roll.
Layer the bottom half with chicken slices, prosciutto, and cheese.
Top with the other half  of the roll. Place the 'sandwich' on the panini maker and close, pressing he sandwich.
Heat through, until the cheese is melted.
Slice in half and serve.