What a fun afternoon!
This month the Atlanta Food Bloggers' Alliance was invited to Pacci restaurant in Atlanta for a food tasting, up in their fabulous Alto Rex Rooftop Lounge.  This was my first visit to the restaurant.  It will not be my last!
We had our meet and greet in the restaurant itself.  It is lovely space. Chef Keira Moritz mingled with the bloggers and told us about our afternoon.
It was quite chilly, so we all bundled up and headed up to the the rooftop.  WOW !!  I can't wait to return (when it's warm).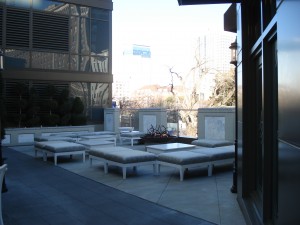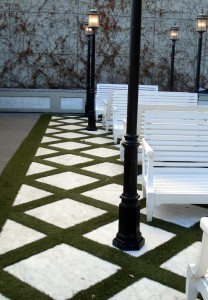 We headed to the roof kitchen to watch Chef Keira and her team prepare 3 dishes- Grilled Ceasar Salad, Gnocchi and Brown Butter Pear Crespelle.
The Grilled Ceasar Salad was a healthy take on a classic.  The romaine was halved and grilled, then drizzled with dressing and topped with croutons and parmesan shavings.
The team then prepared  the Gnocchi with several sauces.  Gnocchi has also been called 'Priest Stranglers' – the story goes that priests would gobble down these little gems so quickly they would practically strangle themselves !!    I sampled the gnocchi with brown butter, walnuts and gorgonzola –YUM !!!!
Next came the Brown Butter Pear Crispelle.  Crispelle is the italian version of crepes.  The team prepared a filling of ricotta and pears and topped with brown butter and micro basil.  What a great taste combination!
— But wait there's more !!!! We then had smores!  The smores, featuring homemade marshmallows, were supposed to be 'cooked' at the fire pit, but the winds were quite strong .  Not to worry – out came the blowtorch and voila!  Pair that with some coffee, hot chocolate or cider- it was the perfect ending to a lovely (albeit windy) afternoon.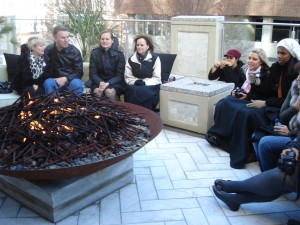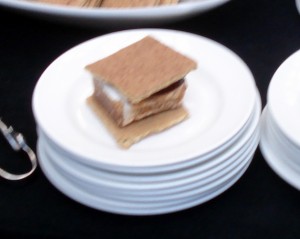 I must say, Chef Keira has a wonderful team.  Everyone was so nice and accomodating.  It obvious they love what they do !  They really went out of their way to make sure we were having a great time. If their attention is any indication of the restaurant's service, then you'll be in for a treat when you visit.  They've even given us a coupon!  Good through February (except Valentine's Day Weekend), get a free carpaccio starter or dessert with your entree!!