So we're down to the wire. Christmas is upon us.  Have you thought about what to serve for breakfast?   Here's another idea for a holiday breakfast – it's a bread pudding-like treat made with croissants.  It's put together the night before, making the morning that much easier.  My mom made this last Christmas and served it with bacon and fruit salad for a tasty brunch.
When I made this, I actually filled one of the criossants with plum jam. It was tasty too.  So feel free to experiment with your favorite jam or preserve.  You can also use the mini croissants for smaller portions – good if you're feeding a crowd or serving this as part of a buffet.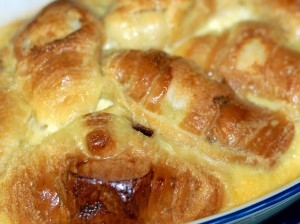 Croissant Surprise (serves four)
Ingredients:
4 croissants, cut in half horizontally
4 oz orange marmalade, thinned with a little orange juice
4 eggs
1 cup half & half
1/2 tsp vanilla extract (or almond extract or ground cinnamon)
Instructions:
Spray a glass baking dish that will accomodate the 4 croissants with cooking spray.
Spread the marmalade on the bottom halves of the croissants and place in a single layer in the baking dish.  Top with the top halves of the croissants and spread the rest of the marmalade over the croissant tops.
In a separate bowl, mix the eggs, half & half and vanilla.  Pour over the croissants.
Refrigerate overnight.
Take the croissants out of the refrigerator 30 minutes before baking.
Preheat oven to 375 degrees F.
Bake for 30-40 minutes. Croissants will be golden.
Serve with fresh fruit or fruit compote.