It's a holiday weekend. Are you having company ? If so, here's a great dish to serve for breakfast/brunch – Overnight Brunch Casserole.  A classic recipe that's a great jumping off point for lots of variations.  I've been making this for-ever.  I continue to make it because people love it and it's so easy! Cook the sausage and assemble it the night before. The morning of,  just stick the casserole in the oven and bake. Voila!!
It's easy to change up this dish.  Try adding green chilies and serve with salsa and sour cream for a mexican treat.  Substitute veggies for the sausage for a vegetarian option.  Change up the bread by using croissants, challah or French bread – or try a different cheese for the cheddar.  The options are endless.  Whatever combination of ingredients you choose, do use a shallow baking dish for this recipe.  I've tried making this in a smaller, deeper soufflé dish – it takes much longer to cook!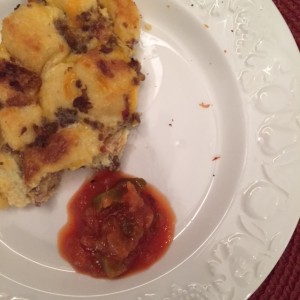 Overnight Brunch Casserole
Ingredients
1 lb bulk breakfast sausage
2 cups milk
6 eggs, beaten
6-7 slices white bread, cubed
1 tsp salt
1 tsp dry mustard (or 1 Tblsp mustard)
1 cup grated cheddar cheese
Instructions
Brown and crumble the sausage. Drain and set aside.
Beat the eggs, add milk and stir to combine.
Add the bread cubes, salt and dry mustard. Stir.
Add drained sausage an cheese. Combine and pour into a 9x13 dish.
Cover and refrigerate overnight.
Preheat oven to 350 degrees F.
Uncover the casserole and bake for 45 minutes, until brown and fully cooked.
Notes
I usually start with 6 slices of bread. If the mixture is quite liquidy, I add a 7th slice of bread.
This dish can also be baked in a soufflé dish, but it will take longer.
Variations: Add green chiles and serve with salsa and sour cream. Substitute veggies for the sausage. Use different types of bread or cheese.
http://ascrumptiouslife.com/overnight-brunch-casserole/