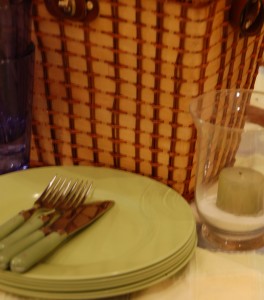 I love going to outdoor concerts in the summer …..and when it's a venue that allows you to bring in your own food – even better!  In Atlanta, Chastain Park is the place. Tables here are coveted – I think people pass their season tickets down in their wills.  Some people go all out there,  bringing candelabras, real china, nice tablecloths etc.  and some have the whole event catered.
Personally, I like to keep it simple (but still nice and fun).  So, here are some ideas I've learned over the years, to make your next outdoor concert dining experience stress free.
Like a Boy Scout – Be Prepared.  My picnic basket lives in my coat closet ready to go, in a moment's notice.  I like to use reusable supplies rather than disposable. It's greener and seems a little more civilized. I take the picnic basket, a bag with food and a cooler or bottle tote.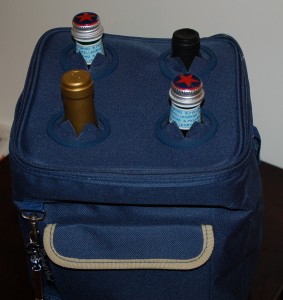 These days there are lots of foldable bags and coolers, which make transporting so much easier. I found mine on One Kings Lane. The inside is plastic, so you can add ice to keep drinks cool.  It collapses down into next to nothing and holds 4 bottles.  btw – be sure to check if bottles and coolers are allowed at the venue.  The rules can vary by show, and what a pain to have to schlep everything back to the car!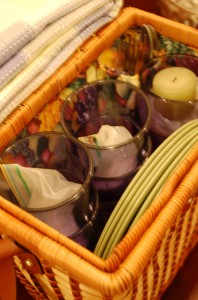 So, here's what's in my picnic basket (talk about space efficiency!):
tablecloth – I have one that fits the Chastain tables perfectly – the cute yellow, blue and green plaid is casual and ties all my other supplies together.
plates – outdoor, unbreakable – check out HomeGoods, Target and even Wal-Mart for fun inexpensive plates
cups(stackable) – yes, wine glasses are nice, but they don't stack well
a corkscrew – enough said…. and look a this cute idea. I might have to get one of these!
extra trash bag – because trash bins fill up quickly – also good for a seat cover if it's wet
candles and holders – at Chastain everyone brings candles – tapers go out with the slightest breeze, so I recommend using small candles in a container that is taller than the candle, I also have sand (which I keep in a snack size zip bag for transporting) to keep the candles straight and help weigh down the candle holder… and don't forget the lighter!
napkins
cutlery – yes, I like 'real' cutlery too. I hate when a plastic fork snaps mid-bite
An extra plastic tablecloth – great to use as a tarp if the rain comes (or under your blanket if the ground is a little damp).  I find mine at Dollar Tree.
An extra plastic grocery sack (to put the dirty plates in after the meal – keeps my picnic basket clean)
and if you're sitting in seats, not at a table… take one oversized tray table instead of two smaller, individual tray tables.  You'll have plenty of room for 2 place settings, and one sure is easier to carry than two.
Now what to serve?  Stay tuned for my next post.