I'm always on the look out for side dishes that are a little bit different. This recipe, originally from epicurious.com, fits the bill. It features orzo, a rice shaped pasta, and a marjoram vinaigrette.  marjoram is an italian herb. A close cousin to oregano, it has a slightly more citrusy, floral flavor.  It's a little harder to find at the grocery store, but I can generally find it at Whole Foods.  You could substitute oregano, but I prefer the marjoram for a change.   This is a picnic friendly dish, because there is no mayonnaise in the dressing. It's best made ahead so the flavors have a change to meld.  I've served it with chicken and fish, but it would also be good with lamb.  The recipe says it serves 8, but I've served much more as part of a buffet or pot luck.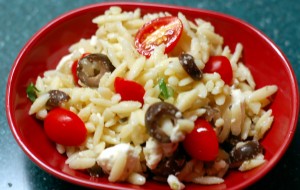 Orzo, Feta and Tomato Salad with Marjoram Vinaigrette (serves 8 or much more as part of a buffet)
Ingredients:
1 lb orzo
1/4 cup fresh lemon juice
6 tsp finely chopped fresh marjoram  (or 3 tsp dried marjoram)
4 tsp dijon mustard
1 tsp grated lemon peel
1/2 cup olive oil
1 6oz container crumbed feta cheese
3 green onions, sliced
1 cup Kalamata olives, quartered or sliced
1 carton grape tomatoes, halved lengthwise
salt and pepper
Instructions:
Cook orzo in a pot of boiling salted water until just tender but still firm to bite, stirring occasionally.  Drain.  Rinse under cold water until cool. Drain well. Transfer to a large bowl.
In a separate bowl, whisk the lemon juice, 5 tsp marjoram, mustard and lemon peel.  Whisk in olive oil.  Set aside 2 Tblsp vinaigrette.
Add vinaigrette ,cheese, onions and olives to the orzo.  Toss to coat.  Season to taste with salt and pepper.
Cover and let stand 2 hours to allow flavors to develop.  (Can be made 1 day in advance.  Cover and refrigerate the salad and remaining vinaigrette separately.)
Toss the halved tomatoes with the remaining 2Tblsp of vinaigrette.  Season to taste with salt and pepper.
Mix tomatoes into orzo. Sprinkle with remaining 1tsp marjoram and serve.