I love it when I try a new recipe and it's better than I expect.
I recently saw an easy appetizer idea on '5 Ingredient Fix', on the Food Network – Olive Bites.  Last weekend I had a party to attend, so I decided to give the recipe a try and have my friends test taste.  Well, what a winner! A buttery, cheesy pastry with the surprise pop of salty olives inside. Several friends are waiting for this post so they can make them, themselves.
By now, you know that I love easy, delicious recipes that can be prepared in advance – and this recipe delivers.  As long as you keep a jar of olives in the pantry, you probably have the other ingredients on hand. These treats are best prepared beforehand, so they have a chance to set up in the refrigerator. Then just pop them into the oven for 10 minutes.  How easy is that!  And delicious?  Well let's just say that I enjoyed them so much I think I'll be serving them at Thanksgiving- but I'll be making a double batch!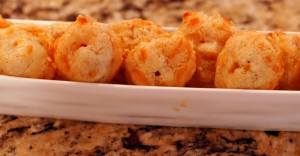 Olive  Bites (makes 16-20 bites)
Ingredients:
1/2 cup all-purpose flour
5 Tbsp unsalted butter
1/3 cup grated Cheddar cheese
1/4 cup grated Parmesan cheese
16-20 olives, stuffed with pimentos
Instructions:
Combine flour and butter in a mixing bowl, until mixture resembles bread crumbs.
Stir in the Cheddar and Parmesan cheese.
Knead the mixture to incorporate the cheeses.
Form the dough into disk, wrap in plastic wrap and refrigerate for at least 30 minutes.
Remove the dough from the refrigerator.
Pinch a small piece of dough and form into a flat circle in the palm of your hand.  Place an olive in the center of the circle and enclose the olive with the dough.  Flour your hands and roll form into a ball. Place the ball on an ungreased baking sheet. Repeat the process with the remaining  pastry and olives.
Chill in the refrigerator for at least 1 hour.  (Can be made a day ahead and held in the refrigerator.)
Preheat oven to 425 degrees F.
Put the baking sheet on the middle shelf of the oven and bake until the pastries are lightly golden, about ten minutes.
Remove from the oven and arrange on a serving platter.
Note:  While it often doesn't matter if you use salted or unsalted butter, I'd recommend unsalted butter for this recipe because the olives are so salty themselves.