I like to have appetizer 'fixins' on hand for an impromptu get together.  Olivada  can be made in minutes and can be stored 'at the ready' for up to 6 months!  This pureed mixture of olives, garlic , herbs and olive oil can be used in various ways.  It is great on crostini topped with shaved parmesan cheese.  Or present a small dish alongside a variety of italian meats, cheeses and roasted red peppers as part of an antipasto platter.  You could also use it as a topping on pasta, a pizza or a sandwich.
Just a suggestion…..  nowadays, many grocery stores provide an olive bar. Since you need less than 1/2 lb of olives – go ahead and buy the fresh olives – it's worth it – and really no more expensive than buying a jar.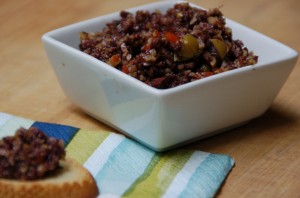 Olivada (makes 1 cup)
Ingredients:
6 oz assorted pitted olives
2 Tblsp olive oil
1 large garlic clove
½ tsp salt
½ tsp dried thyme
Pinch of dried rosemary
Black pepper
Instructions:
Place all the ingredients, except the pepper in a food processor.
Pulse until a grainy puree, not too smooth.
Taste puree and fix seasonings, adding a little more olive oil if too dry.
To store, pack firmly into a jar, smoothing the top. Cover the puree with a layer of oil.
Keep Refrigerated. Re-top leftover puree with another layer of oil.
This recipe is adapted from the Fancy Pantry cookbook. a great reference book for condiments, sauces, vinegars, pickling etc.  It's now our of print, but you can find used copies on amazon.