One of the many perks of going to Camp Blogaway is all the loot you get to take home.  We were instructed to 'pack light and pack big', so we could get all the goodies home.  One of the goodies was a bottle of Not Ketchup, from fellow blogger Erika Kerekes.  When I saw the flavor – spiced fig , I knew I'd be trying it out on a pork tenderloin.  I got a chance to try it over Memorial Day Weekend and it was delicious!
You know, Ketchup was not always the tomato flavor we all know today.  Back in the the day, people made ketchup out of lots of different fruits.  Not Ketchup brings back this idea in 4 flavors
Spicy Fig (new!)
Chipotle Cherry
Blueberry White Pepper
Smoky Date
While mainly a dipping sauce and sandwich spread, I thought I'd try it as a marinade.  I took a pork tenderloin (1.25 lb), put it in a big zippy bag, added 1/3 cup of Spice Fig Not Ketchup and let them hang out in the fridge for about half an hour.  Then I roasted the pork my usual way. I served it with roasted veggies that I was able to roast alongside. Then I served a little extra spicy fig sauce on the side.  Delish !  I can't wait to make sandwiches out of the extra pork!
Currently, Not Ketchup is available in stores in California and Texas.   But not to worry, you can order online directly from Not Ketchup, here.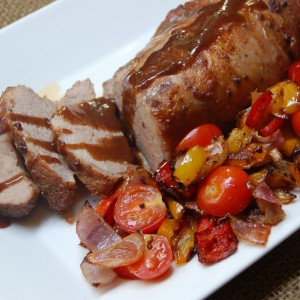 Not Ketchup Pork Tenderloin
Ingredients
1- 1.25 Pork Tenderloin
1/3 cup Not Ketchup Spicy Fig
Instructions
Put the Not Ketchup - Spicy Fig- and tenderloin in a zippy bag. Seal and refrigerate for 30 minutes.
Preheat oven to 425 degrees F.
Place the tenderloin on a sheet pan and roast for 20 minutes.
Lower the temp to 350 degrees F for 20-30 minutes, until the internal temperature is 137 degrees F.
Cover the tenderloin with foil and let rest for 15 minutes.
Slice and serve with extra Not Ketchup sauce, on the side.
http://ascrumptiouslife.com/not-ketchup-pork-tenderloin/