I like to take a classic dish and switch up a few ingredients.  This time I'm starting with my Shepard's Pie, one of my favorite comfort foods.  I switched the topping to sweet potato and added some Moroccan spices, tomatoes and dates – Voila!   This dish is a nice way to introduce some different flavors to your family/guests, by using a familiar base.  It's easy enough for a weekday and exotic enough for company.
This is the same idea as my Potato Crusted Fish and Sweet Potato Crusted Fish– where I switched an ingredient and some flavorings.  Both of these recipes have become quite popular here on a scrumptious life.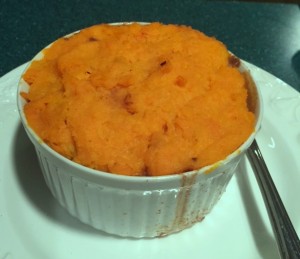 I start by peeling and cutting 2 large sweet potatoes, adding them to boiling water and cooking until soft – approx. 10 minutes.   Later I will mash the sweet potatoes with minced ginger, butter and milk and spread the mixture over the meat in the dishes.
White the sweet potatoes are cooking I get the meat portion started.  I sauté diced onion and carrots in olive oil ( adding minced garlic and ginger, halfway through) until the onion is soft.  Then I add the lamb and cook, until the meat is browned ( breaking the meat up as I stir).  Then I drain the meat, put it back in the pan and add a tablespoon of flour and stir to coat.  Then I add drained diced tomatoes, beef broth and spices- then I cook this down until there's a nice gravy.   I toss in some dried chopped dates and season with salt and pepper.  Then I preheat the oven to 425 degrees.  I put the mixture in the bottom of 1 cup ramekins, for individual servings, or a small casserole.  Then I top the meat mixture with the mashed sweet potatoes, making sure to totally cover the meat.  I place the dishes on a sheet pan, in case they drip over (which they did) and cook for 15-20 minutes.  The dish will be bubbling hot.
For spices I used garlic, ginger, cumin and pumpkin pie spice – yes, you read that right – pumpkin pie spice. Why? because pumpkin pie spice is a combination of cinnamon, cloves, nutmeg- all spices found in Moroccan dishes. It's not just for Thanksgiving anymore!
I hope you'll give this recipe a try.  It's so nice to jazz the basics up sometimes.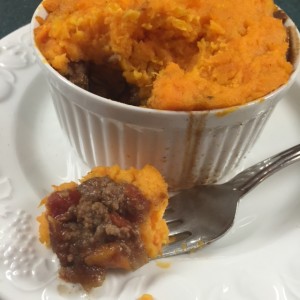 Ingredients
Sweet Potato Layer

2 large sweet potatoes, peeled and cut
1/2 tsp grated fresh ginger
1/2 cup milk ( or buttermilk)

Meat Layer

1 1/2 Tblsp olive oil
2/3 cup onion, small diced
2/3 cup carrots, small diced
1 lb ground lamb
1/2 tsp minced fresh ginger
1/4 tsp minced garlic
1 Tblsp flour
1-14 oz can diced tomatoes, drained
1 cup beef broth
1 tsp cumin
1.2 tsp pumpkin pie spice
1/2 cup chopped dried dates
1/2 tsp salt
1/4 tsp black pepper
Instructions
Boil the sweet potatoes until soft- 10 minutes. Drain and set aside covered.
Heat the olive oil in a non-stick skillet
Add the onions and carrots and sauté until the onions are soft, approx. 10 minutes- adding the garlic and ginger in halfway though cooking
Add the lamb and cook until brown, breaking up the meat as you stir.
Drain the lamb mixture.
Return the meat mixture to the pan and add the flour. Stir to combine. Cook for 2 minutes.
Add the tomatoes, broth, cumin and pumpkin pie spice and cook, on medium heat until a gravy thickens. Stirring occasionally - about 10 minutes.
Add the dates, salt and pepper. Stir and fix seasonings.
Spoon the meat mixture into ramekins or a casserole dish , 3/4 full.
Mash the sweet potatoes. Add the ginger, butter and milk. Stir to combine. Add salt to taste.
Layer the sweet potatoes over the meat mixture, covering completely.
Preheat oven to 425 degrees F.
Place the casseroles/ramekins on a sheet pan and cook for 15-20 minutes, until bubbly hot.
http://ascrumptiouslife.com/moroccan-shepards-pie/