I am a certifiable Chocoholic – of course you've probably already figured that out.  I've always loved chocolate molten cakes – the cakey outside and melty inside mmmmm.  Add a little ice cream and/or whipped cream  and…… excuse me, while I reach for a napkin.    Anyway, I've always eaten them while dining out. I'd never tried making them at home. Well, up to now – thanks to Jenny Steffen Hobick.
Have you read Jenny's Food/Lifestyle blog, Everyday Occasions yet?  If not, it's a great site to bookmark. I think I came across it while Googling for an Ina recipe, several months ago, and now I've got her in my favorites.  She used to be an event planner/caterer and posted this recipe for making 12 molten chocolate cakes in a muffin pan.  Easy, Delicious AND Impressive – I'm in! I love that you make the batter in advance and then cook it quickly, at the last minute.  I can see popping them in the oven, while you put on the coffee and clear off the main course. What a  great, sweet treat ending to a dinner party.  This is perfect for your favorite chocoholic – even if that's you!  Thanks Jenny!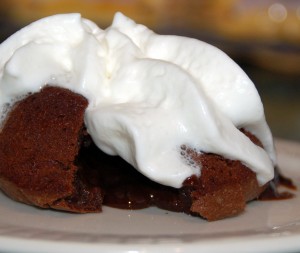 Ingredients
3/4 cup of butter plus more for coating the pans
12 ounce of chocolate chips
1/2 cup of heavy cream
5 eggs
3/4 cup sugar
2/3 cup of flour
Instructions
Prepare cupcake pans

Coat the inside of each mold with melted butter. Sprinkle the molds with cocoa, coating completely.
Batter
Place the chocolate chips in a microwave-safe bowl, then add the butter and cream.
Microwave the mixture for 30 seconds at a time, stirring in between, until the chocolate is smooth.
When chocolate has cooled slightly, stir in eggs, sugar and flour.
Pour into prepared cupcake pans.
Refrigerate for 1 hour (at least) and up to a couple of days.
Preheat the oven to 450 degrees F.
Bake the cakes 10 minutes for regular 12/cupcake pan size (15-18minutes for jumbo 6/pan size), until the outsides and most of the top is set, and the centers are still slightly runny.
Let the cakes cool for 5 minutes, then place a sheet pan on top of the muffin pan and invert them.
Serve with whipped cream, ice cream and dusted with chocolate or cinnamon.
http://ascrumptiouslife.com/molten-chocolate-cakes/