I'd wanted to make this Mocha Chocolate Icebox Cake, from "Barefoot Contessa" Ina Garten for a while. So when I walked into Costco and found large boxes of Tate's Chocolate Chip Cookies, a key ingredient, I knew it was time.  I brought it to our Christmas Eve dinner last year and received rave reviews.  Not bad for something that takes less than 30 minutes to put together!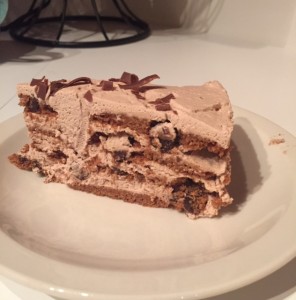 This "cake" is a no cook recipe, using a springform pan, in which you layer Tate's Chocolate Chip Cookies and a wonderfully lucious mocha whipped cream, made from heavy cream, mascarpone cheese, sugar, unsweetened cocoa, espresso power, vanilla and Kahlua. Yum!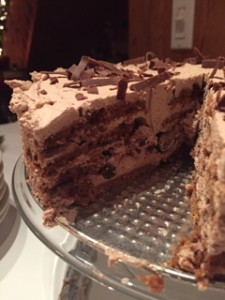 You know how I love make ahead recipes, and this fits the bill, as the cake must be assembled and then refrigerated overnight.  This allows the crisp cookie layers to become a little more cakey. Ina's original recipe calls for an 8 inch springform pan and 5 layers of cookies (and cream).  I wanted to serve mine on my cake stand and the 8 inch looked a little small, so I opted for a 9.5 inch springform pan and 4 layers of cookies/cream.
As suggested, I sprinkled chocolate shavings on top for garnish.  All I can say is WOW!  This recipe is definitely a keeper….. and oh the possibilities for knock-off deserts.  Watch this space! Thanks Ina – perfect as always!
Mocha Chocolate Icebox Cake
Ingredients
2 cups cold heavy cream
12 ounces Italian mascarpone cheese
1/2 cup sugar
1/4 cup coffee liqueur, I used Kahlua
2 Tblsp unsweetened cocoa powder
1 tsp instant espresso powder
1 tsp pure vanilla extract
3 (8-ounce) packages Tates chocolate chip cookies
Shaved semisweet chocolate, for garnish
Instructions
Mocha Whipped Cream

Place the heavy cream, mascarpone, sugar, coffee liqueur, cocoa powder, espresso powder, and vanilla in an electric mixing bowl.
Using the whisk attachment, mix the mixture on low speed to combine and then slowly raise the speed, until it forms firm peaks.

Cake Assembly

Arrange chocolate chip cookies flat in an 8-inch springform pan, covering the bottom as much as possible. Break some cookies to fill in the spaces, if necessary.
Spread a fifth of the mocha whipped cream evenly over the cookies.
Place another layer of cookies on top, lying flat and touching, followed by another fifth of the cream. Continue layering cookies and cream until there are 5 layers of each, ending with a layer of cream.
Smooth the top, cover with plastic wrap, and refrigerate overnight.
When ready to serve, run a small sharp knife around the outside of the cake and remove the sides of the springform pan.
Sprinkle the top with chocolate shavings, cut in wedges, and serve cold.
Notes
Recipe from the Barefoot Contessa (Ina Garten) "How easy was that?"
http://ascrumptiouslife.com/mocha-chocolate-icebox-cake/