Tomorrow is a very busy day – first,  obviously it's Cinco de Mayo. Second – and important in our family – it's FA Cup Day (British soccer finals) and then to top it off  – the Kentucky Derby. I rarely post about adult beverages and now, here's two in a row…. but what's the Kentucky Derby (all 2 minutes of it) without a Mint Julep?
This recipe comes from the "Derby Entertaining" cookbook that one of my Kentucky friends let me borrow. It's great to have friends with fabulous cookbook collections! This starts with a simple syrup that you make a day ahead, so it can meld with the mint.  You know how I love make ahead recipes.  I've added a non- alcoholic version as well. You'll find that recipe at the bottom of the post.
Now, what to do about a hat ??!!!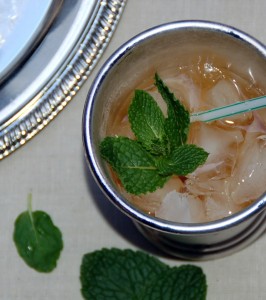 Mint Julep (makes 21 servings)
Ingredients:
1 cup water
1 cup sugar
1 cup mint leaves
Crushed ice
Kentucky Bourbon
Mint sprigs, for garnish
Instructions:
Heat the water and sugar to a boil, in a medium saucepan.
Cover and continue to cook for 5 minutes. Remove from heat and cool.
In a medium bowl, bruise the mint leaves with the back of a wooden spoon. Place leaves into a 12 oz jar.
Pour the cooled syrup into the jar.  Let steep, in the refrigerator for  12-24 hours.
When ready to use, strain the syrup, discard the mint leaves.
To serve, fill frosted silver mint julep cups or old fashion glasses with crushed ice.
Add 1 Tblsp syrup and 1 oz bourbon to each glass.
Stir and garnish with mint and serve with a half sized straw.
Non-Alcoholic Version: Add 1/2 cup lemon juice to 1 cup of the strained syrup. Return to refrigerator for 30 minutes.  Pour into a pitcher and add 1 1/2 quarts ginger ale.  Serve over crushed ice.