I know it's my British upbringing , but I love mincemeat.  What is mincemeat, you ask?It's a rich  mixture of dried fruits and citrus peels mixed with treacle (molasses) and oil.  No actual meat in it at all –  although apparently it used to, hence the name.  It's used heavily during the holidays in a variety of desserts.  My favorites are the little mincemeat tartlets (which we call mince pies) my mom makes.  She serves them warm or cold , and sometimes with custard (which is more of a sauce than a pudding)  Here's a pic: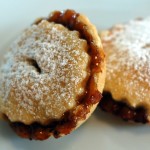 But, as I've said before, I'm not great with pastry, so I was happy to run across this recipe a few years ago for Mincemeat Muffins – still the great flavor in a much easier preparation.  The recipe makes 12 muffins, but I made mini muffins instead, to serve as a side bread at an upcoming party. (More on that in a future post).  The recipe made 24 mini muffins and 5 regular muffins. I took the mini muffins out of the oven after 15 minutes and baked the regular sized muffins per the recipe.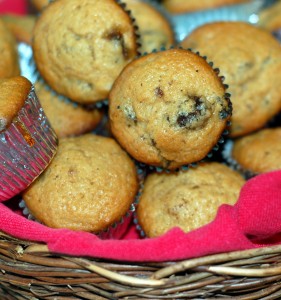 Mincemeat Muffins (makes 12 muffins)
Ingredients:
2 cups all purpose flour
1/3 cup sugar
2 tsp baking power
1/2 tsp salt
1 1/4 cups prepared mincemeat ( I used a 14.5 oz jar)
2 eggs, lightly beaten
1/3 cup water
1/3 cup vegetable oil
1 tsp vanilla
1 cup chopped walnuts (optional)
Instructions:
Preheat oven to 400 degrees F.  Grease twelve muffins cups (or use paper muffin liners).
In a large bowl, stir together the flour, sugar, baking powder and salt,
In another bowl, stir together the mincemeat, eggs, water, oil and vanilla, until blended.
Make a well in the center of the dry ingredients and add the mincemeat mixture.  Stir to combine.
Stir in the (optional)nuts.
Spoon batter into the prepared muffin cups.
Bake 20-25 minutes or until a cake tester inserted in the center of one muffin comes out clean.
Remove muffin tin(s) to a wire rack.  Cool for 5 minutes before removing muffins. Remove muffins and finish cooling on the wire rack.
Serve warm or cool completely and store in an airtight container in the refrigerator.
Let muffins return to room temperature or warm slightly before serving.
These muffins freeze very well.
Source: Mostly Muffins by Barbara Albright and Leslie Weiner