This weekend marks the beginning of college football – yea!!
Yes, I do love college football.  This year Syracuse joins the ACC – a move I wasn't too sure about ( especially with basketball).  But, living in the south, I do like the idea of getting to attend some games closer to home.  This year , SU plays Ga Tech – in Atlanta.  I'm already psyched and the game's 6 weeks away!
Tomorrow, we start our season against Penn State.  I can remember, as a member of the SU Marching Band, taking a bus to a Penn State game.  The stadium was out in the middle of nowhere surrounded by huge parking lots. I'd never seen so many RVs in my life!  The Carrier Dome, at SU, is in the middle of campus so the parking and therefore the tailgating set-up is quite different. I've learned since, that the sea of RVs a pretty typical sight on a football Saturday.
Anyway, today I'm sharing my favorite dip for watching football.  It's actually a recipe I shared in a multi recipe post, a while back.  It's so good I decided it needed a post of its own.  Ladies – guys LOVE this dish.  The full recipe makes ALOT – so if you're having a big group, by all means make the full recipe.  I usually make a half portion, which fits a pie pan or 8×8 dish perfectly.  But I do make the full meat portion and freeze half of it, to have at the ready for another game. It's a hearty dish and works perfectly with Tostitos Scoops.  I offer extra salsa  and guacamole on the side.
Note: The KEY to this dish is to make sure you drain the meat mixture VERY well.  I put the meat in a colander to drain and then spread it, in a single layer, on a sheet pan covered with three layers of paper towels.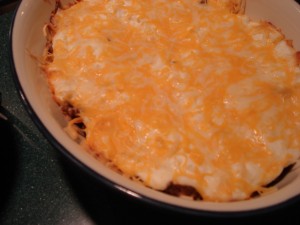 Ingredients
1 lb ground beef
1 lbs hot sausage (I like breakfast sausage, but you can also use hot italian sausage meat)
1 envelope of dry onion soup mix
6 oz salsa/picante sauce
16 oz cream cheese
16 oz sour cream
1/8 teaspoon garlic powder
8 oz grated cheddar cheese
Instructions
Remove any sausage casings and brown the ground beef and sausage in a large saute pan. Use a rubber spatula to turn the meat and break up any big chunks of meat.
Halfway through the browning process, add the dry onion soup mix.
Drain the meat VERY well. This is KEY - or the dish will be far too greasy! First, put the meat in a colander to drain and then spread the meat, in a single layer, on a sheet pan covered with three layers of paper towels.
Put the drained meat into a large bowl and stir in the picante sauce. (I often prepare the recipe to this stage and freeze in two portions.)
Preheat oven to 350 degrees F.
Put the meat mixture into a 9x13 or slightly larger dish. (If you've frozen the meat, thaw first.)
Mix the cream cheese, sour cream and garlic powder, until blended.
Layer the creamy mixture on top of the meat.
Cover the cream cheese layer with the shredded cheese.
Bake until the cheese is melted and the edges of the dish are bubbling. ( approx 30 minutes)
Serve with Tostitos Scoops and offer salsa and guacamole on the side.
http://ascrumptiouslife.com/mexican-dip/