Ahhh, first tomatoes, now corn.  There's nothing like eating fresh!!  Here's my newest favorite dish – Mexican Corn.  Grilled corn slathered in a chile, cilantro mayonnaise and then rolled in grated mexican cheese.  I know, I had you at slathered…..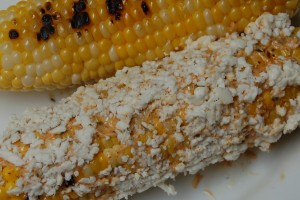 First you cook the corn, on the cob.  Some prefer to boil first, then grill. Others just head straight for the grill.  If you are grilling them, you can keep the husks attached (remove the silks). They make a nice handle later, but you might need to wet them, so they don't burn.  I opted to get rid of the husks.
Anyway, keep rotating them until they get nice and cooked with a little bit of char.   I actually used an indoor grill pan and it was fun to hear them sizzle and pop!  Meanwhile, mix mayonnaise, chile powder, cilantro paste and a touch of cayenne.  Separately, grate some Mexican cheese (I used queso fresco) and spread it out in a dish that's longer than the corn cobs.  Now, while the cobs are still warm (careful!!)  slather the mayonnaise mixture all over them, then roll them in the cheese until they're fully coated.
Now, some people serve it 'on a stick', like the traditional street food, but I just used my hands. (I didn't even try to find those little corn holders!)  I'm telling you, this recipe is the BEST way to eat corn! Count on at least 1 full ear per person, but you'll definitely want to make extra. Don't say I didn't warn ya….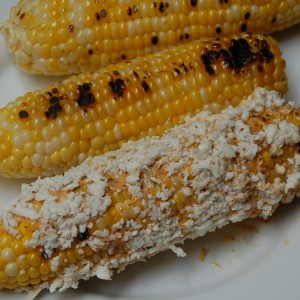 Ingredients
6 ears of corn, cooked (see note)
1/2 cup mayonnaise
1 tsp chile powder
2 tsp cilantro paste
1/8 tsp cayenne pepper (or to taste)
8 oz queso fresco cheese
Instructions
Mix the mayonnaise, chile powder, cilantro paste and cayenne pepper together. Set aside.
Grate the queso fresco and place in a dish that is longer than an ear of corn.
While the corn is warm, slather some of the mayonnaise mixture all over an ear of corn. Roll the ear in the cheese, until covered.
Repeat with remaining ears of corn.
Serve immediately.
Notes
To cook the corn, you can either boil the ears for 10 minutes and then finish on the grill or grill ears until cooked and lightly charred.
http://ascrumptiouslife.com/mexican-corn/