It's good to have a versatile meat marinade in your cooking repertoire. I have two.  I've used both of them  for flank steak, pork tenderloin and chicken breasts.  I've already shared my Oriental Marinade with you.  The other recipe comes by way of one of my sister-in-laws.  It's oriental meets tex mex – a nice blend of sweet and spicy- the heat can be kicked up to your liking.  I last used it on Pork Tenderloin.  After marinating for 3 hours, I baked the pork at 375 degrees F for 30 minutes, until it reached 137 degrees on a meat thermometer.  I hope you'll try it!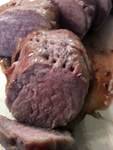 Meat Marinade (for up to 4 lbs of meat)
Ingredients:
1 inch fresh ginger, chopped
1 jalepeno pepper (or equivelant from jar)
1/4 tsp red pepper flakes
1/3 cup honey
3 Tblsp soy sauce
3 Tblsp sesame oil
2 Tblsp 'jap' juice from jarred jalepenos
Instructions:
Combine all ingredients in a gallon sized plastic bag.
Add meat and marinate as desired.