Marinara sauce is a great all-purpose sauce to have on hand. It is wonderful with pasta on it's own, as a base for sausage and peppers, in your favorite lasagna…..  The options are endless. Sure, you can buy it in a jar, but when homemade is this easy, why would you want to?  And right now is a great time to make a batch to use up the last of this season's tomatoes.
This recipe is  based one from Natalie Dupree, that I've had for ever.  I got it, back in the day, when I attended one of her classes at Rich's (now Macy's) department stores. (Boy, did I just date myself!!)  Over the years I've tweaked it to the recipe you see below.  Anyway, it's a classic and can be made with fresh or canned tomatoes.  I've made the sugar optional, because with the fresh tomatoes, I find I don't need it.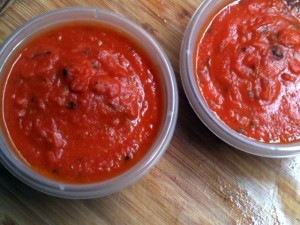 Ingredients
1/2 cup olive oil
3 cloves garlic, minced
1/4 cup fresh basil chopped
1/2 Tblsp fennel seed
3 lbs fresh or canned tmatoes, chopped into 1-inch pieces
salt and pepper
1/2 tsp sugar (optional)
Instructions
Heat the olive oil in a heavy saucepan.
Add the garlic and cook until soft (don't brown).
Add the tomatoes, basil and fennel seed. Cook on medium-high heat for 25 minutes, stirring occasionally.
Taste and fix seasonings, adding the (optional) sugar, if desired.
Put the sauce into a processor/blender and pulse to desired chuckiness.
http://ascrumptiouslife.com/marinara-sauce/