Several Many years ago, I co-hosted a couples wedding shower for some friends.  The theme was Mexican. We decorated our front porch with cactus and sombreros – and later made everyone pose for pics in the sombreros. We served a mexican meal -gazpacho, fajitas with all the fixins, spanish rice, mexican beer, the works!  Our big dilemma was how to serve frozen margaritas for a crowd.  Yes, I'm in the frozen camp in the 'frozen' vs 'on the rocks' debate (and without salt, please).  But who wants to be behind a blender  for a whole party – and would the blender even survive such use ?!!
So, what a great find to discover this recipe from Southern Living – Frozen Margarita Punch.  The mixture can be frozen in advance. So the day of, you simply defrost for 30 minutes, put in a punch bowl with some soda and voila –  2.5 gallons of margaritas !!  Yes, gallons.  Anyway, with Cinco de Mayo coming up on Saturday, I thought some of you might be in a similar dilemma.   Problem solved – Salud !!!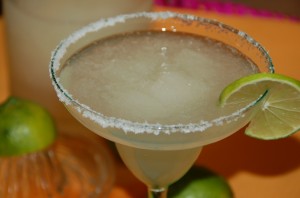 Margaritas for a crowd (makes 2 1/2 gallons)
Ingredients:
4 – 12 oz cans frozen limeade concentrate, thawed, undiluted
3 quarts water
3 cups orange liqueur
3 cups tequila
2 – 2 litre bottles lemon lime soda
Instructions:
Combine the first four ingredients.
Cover and freeze at least 8 hours, stirring twice (I froze for 24 hours , stirring 4 times).
Remove from freezer 30 minutes before serving.
Break the frozen mixture into chunks in a punch bowl.
Add the lemon-lime soda.
Stir until mixture is slushy.
Hint : I used a couple of gallon milk jugs with the tops cut off  to freeze the mixture, when I made the whole recipe, making it easy to stir, store, and pour….  and by portioning the mixture, you can keep part of it frozen until needed for rounds 2,3 ……….
… and , of course, please drink responsibly!