Welcome back to Thanksgiving 101.  Today we tackle the gravy.
Besides the turkey, I think the fear of getting lumpy gravy is one of the biggest concerns at Thanksgiving. Plus, it's usually made after the turkey  is done, just as you're trying to get everything else heated up. Who needs that kind of pressure?!
This recipe, based on one from Ina, is made ahead, so you don't have to worry about it, along with everything else, on the day.  I made it the day before and  heated it up as the turkey was finishing roasting – I then added some drippings from the turkey pan and voila! I chose to puree the gravy because I enjoy a smoother gravy and I didn't have to be so careful about finely dicing the onions.
SO now we have the turkey and gravy …. next time, the sides.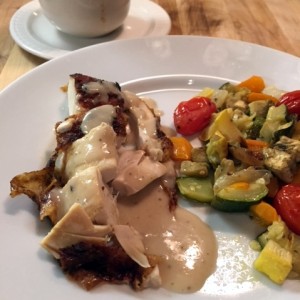 Ingredients
1 stick unsalted butter
1 1/2 cups chopped yellow onion
1/4 cup flour
1 tsp salt
1/2 tsp black pepper
2 cups chicken broth
1/4 cup defatted turkey drippings
1 Tblsp white wine (optional)
1 Tblsp heavy cream (optional)
Instructions
In a large (10 to 12-inch) saute pan, melt the butter and saute the onions over medium-low heat for 12 to 15 minutes, until the onions are lightly browned.
Meanwhile, heat the chicken stock in a separate saucepan.
Sprinkle the flour, salt and pepper over the onions.Cook for 2 to 3 minutes, stirring often.
Add the warmed chicken stock to the onion mixture and cook 4 to 5 minutes until thickened, stirring often.
Put the mixture into a blender and puree until smooth.
Gravy can be refrigerated until needed at this point.
When ready to finish, reheat the gravy in a saucepan on the stove.
Add the turkey drippings and the optional wine and cream, if desired. Season, to taste, and serve.
Notes
Always be careful with hot food in the blender, by blending gradually.
http://ascrumptiouslife.com/make-ahead-gravy/