Now I know I'm not the only one – I have have loads of recipes torn-out-of or dogearred-in magazines, because 'one day' I want to try this.  Perhaps, in this age of technology, people are 'bookmarking' instead – but magazine addict that I am, I have files and piles of recipes.  (And that doesn't even start to cover cookbooks, but I'll save that for another post.)
Anyway, I've challenged myself to start trying at least one of these recipes a month. (Only one? – heck it's a start!) My first is Southern Living's 'Food Gift of the Month' from August 2012 (yes, only two issues ago!) Their Lemon-Poppy Seed Zucchini Bread sounded easy and delicious – and it is!  I love having a few sweet breads in my arsenal and I think I'll be adding this one to it.  The recipe makes 3 mini loaves – great for hostess gifts or just a treat at tea time.  I'll be feeding mine to my co-workers, since I'm responsible for the snack at our team-building session this month.  They're usually quite willing to be my guinea pigs.
I liked this so much I'm gonna bake another batch just to use up an extra zucchini.  Hey, if I make it twice does it count as two??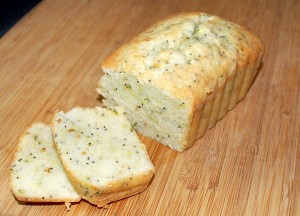 Lemon-Poppy Seed Zucchini Bread (makes 3 mini loaves)
Ingredients:
1/2 cup (1 stick) butter, softened
1 1/3 cup sugar
3 large eggs, room temperature
1 1/2 cups all-purpose flour
1/2 tsp salt
1/8 tsp baking soda
1/2 cup sour cream
1 cup shredded zucchini
1 Tblsp lemon zest
2 tsp poppy seeds
Instructions:
Preheat oven to 325F degrees.
Grease and flour 3 mini loaves pans (5×3 inch).
Beat butter at medium speed with a heavy duty electric stand mixer until creamy.
Gradually add the sugar and beat until light and fluffy.
Add eggs, one at a time, beating just until blended after each addition.
Stir together the flour, salt and baking soda. Add to the butter alternately with the sour cream, beginning and ending with the flour mixture. Beat at low speed just until blended after each addition.
Stir in the zucchini, lemon zest and poppy seeds.
Spoon batter into the 3 prepared pans.
Bake for 40-45 minutes or until a toothpick inserted in the center of each loaf comes out clean.
Cool in the pans on a wire rack for 10 minutes.
Remove from pans and cool on the rack for 30 minutes.
psst… if you still have the August issue – it's on page 10.