With the name Lemon Bisque, you are probably thinking Lemon Soup?? I'm not sure how it got it's name, but this is a light lucious dessert like a lemon mousse. I usually make this as a pie – with graham cracker crumbs as a 'crust', but recently, I served it in individual glasses (sans the 'crust'), with ginger cookies alongside.  Make this in advance, as it must be chilled for a few hours.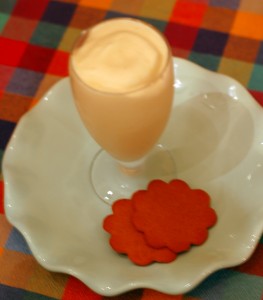 Lemon Bisque
Ingredients:
1 3oz lemon jello
3/4 cup boiling water
3/4 cup sugar
1 lemon – zest and juice
1 12 oz can evaporated milk
8 long pieces graham crackers (if making pie)
Instructions:
Mix the package of jello and 3/4 boiling water.
Add sugar, lemon juice and lemon zest.
Cool in refrigerator.
If making pie, crush the graham cracker and put 1/2 of them in a 9″ buttered pie plate.
Whip the evaporated milk to 2 times in bulk.
Add lemon mixture to the milk. Beat until combined.
Spread into pie pan or spoon into individual glasses.
If making a pie, sprinkle the pie with the remaining graham cracker crumbs.
Cover the individual glasses with plastic wrap.
Chill for several hours.