Arg ! it's almost Labor Day!  Where did the summer go!!  Growing up in New York it always signaled the end of summer.  School was about to start.  Temperatures would soon start cooling off and fall foliage wasn't far off. Now, living in the south, school's been back in session for a couple of weeks – Goodbye to my easy summer commute to work!!   Football season's getting started and it'll be hot for weeks to come.
Which  brings me to today's post – Lemon Bars,  a classic southern dessert.   Actually, there's no real  correlation, BUT  they'd be perfect for a Labor Day cookout, tailgate,  potluck, book club or lunchbox treat.  The bright lemon flavor may just help summer last a little while longer.  I made a batch and took them to the office (having a food blogger for a co-worker sometimes has its benefits)  They were a big hit.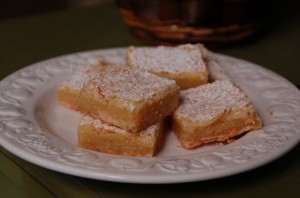 This  recipe is based on an old Southern Living recipe.  It's a cookie base covered with lemony  goodness and topped with sprinkled confectioners sugar. A must have in your southern repertoire.   This recipe makes a 9×13 pan – you can decide how many servings that is.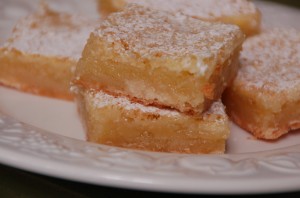 Ingredients
Crust

1/2 lb unsalted butter, room temperature
1/2 cup sugar
2 cups flour
1/8 tsp kosher salt

Lemon Filling

4 eggs, beaten
2 cups sugar
Zest of one lemon
1/3 cup lemon juice
1/2 cup flour
Confectioners sugar for dusting
Instructions
Crust

Preheat oven to 350 degrees F.
Cream the butter and sugar in a mixing bowl.
Add the flour and salt, and mix until just combined.
Form the dough on a floured surface, into a ball. Press the dough into a 9x13 inch baking dish.
Bake for 20 minutes, until lightly browned.

Lemon Filling

Whisk all the filling ingredients.
Pour over the baked crust.
Bake for 25-30 minutes until light brown.
Remove the dish from the oven and cool on a wire rack.
Sprinkle with confectioners sugar and cut as desired.
http://ascrumptiouslife.com/lemon-bars/