This month's dinner party was a goodbye party for a friend who's moving away. I invited her and her BFFs as a send-off/celebration of her new adventure.  It was yet another hot day. (We'd had a string of over 9o degree days for I don't know how long!)  So I opted for a cold dinner.  The only dish to be cooked was my Picnic Chicken. This was also a good thing because we'd also had some bad storms go through town that week, and that day was no exception.  I actually went ahead and cooked the chicken early, in case the power went out.  I figured we could always eat by candlelight.  Luckily, although the lights flickered a little , the power (and A/C) stayed on.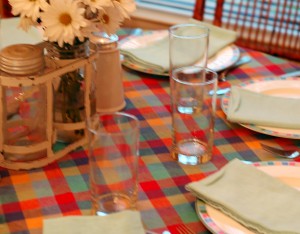 Menu:
This party was held on a Friday night, which meant I needed to serve dishes I could prepare in advance. This menu fits the bill.  In fact most of these dishes benefit from being prepared in advance – allowing their flavors to meld.   So on Friday I only had to put the salad together, cut up the appetizer veggies and cook the Picnic Chicken.  (I prepped it the night before, then took it out of the refrigerator about 20 minutes before baking.) Everything else , including the salad dressing, was made one or two days before.
I hope you'll try this light and healthy menu.  It's the perfect meal now that most of the country is suffering through a heat wave!