Happy July 4th!!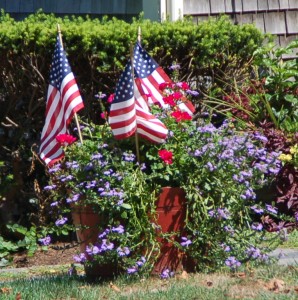 Today(actually all weekend) is a time to celebrate the freedoms that we all enjoy.  With all the unrest around the world this year, I am particularly grateful.
The flowers in the photo above are from my trip to Cape Cod, last summer.  I love Americana at July 4th – it's never out of style – decorating with red, white & blue, parades, fireworks, 5K's, cookouts….. Whatever your plans this weekend,  I hope you are surrounding yourself with people you love…. and of course good food.
If you're looking for a few last minute ideas, here are a few of my favorites.
And if you're worried about all the food you'll eat this weekend, consider these words from Erma Bombeck.
"You have to love a nation that celebrates its independence every July 4, not with a parade of guns, tanks, and soldiers who file by the White House in a show of strength and muscle, but with family picnics where kids throw Frisbees, the potato salad gets iffy, and the flies die from happiness. You may think you have overeaten, but it is patriotism."
That's my story and I'm sticking to it!  Enjoy your weekend!