I was recently lucky enough to spend a week in St Thomas with a couple of college roommates.  What a wonderful time!  Seven days of sun, fun, shopping, beaching and tropical drinks.  We tried several new (to us) restaurants during the week. A great lunch find was Cuzzin's on  Back Street in downtown Charlotte Amalie.  They offered an assorted menu including several curry and jerk dishes.  I ordered the Jerk Chicken with mashed sweet potatoes and fried plantains.  The chicken was so tender – it just fell of the bone – so it had obviously been slow cooked – so tasty!
Anyway, when I got home, I decided to create a quick weekday chicken dish using those same island flavors.  (I'm always looking for new ways to cook chicken – aren't you ?!)  This recipe involves making a marinade for thin chicken cutlets, then grilling them (stove-top or outside). The cutlets take no time at all to cook.  All the time here is waiting for the chicken to marinate – at least 30 minutes.  I took that time to make a Pineapple Salsa, which I served on the side. I'll share that recipe with you soon.
This is a fairly mild recipe, so feel free to kick it up a notch if you prefer a spicer dish.  One disclaimer – the spiciness of jerk seasoning can vary.  I used Penzeys Jerk Seasoning for Pork in my recipe.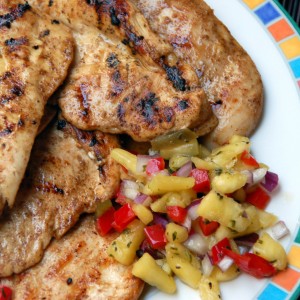 Ingredients
1 lb thinly sliced chicken breasts
1/3 cup olive oil
1 Tblsp lemon or lime juice
1 Tblsp juice from jarred jalepenos
2 tsp jerk seasoning
1 tsp brown sugar
1 tsp soy sauce
1/2 tsp minced garlic
Instructions
Place the chicken in a large zip top plastic bag.
Combine the remaining ingredients and pour over the chicken.
Seal the bag and refrigerate for at least 30 minutes.
Remove chicken from marinade (discard unused marinade) and grill - stove top or outside grill.
Serve hot or cold.
http://ascrumptiouslife.com/jerk-chicken-breasts/