This month's dinner party—- a casual meal with girlfriends I didn't see near enough of during the holidays.  Since we're all watching our girlish figures (who isn't in January??) and because the party was on a Friday, I decided to do easy soup and salad, and a yummy low cal dessert.
My guests were arriving at 7 pm and I got home from work at 5:30, so I made sure most of the meal was prepared in advance.  I think soup tastes better the next day, anyway, so making it in advance was a great idea on many levels.  The dessert needs to freeze overnight- so it, too, was made the night before.  When I got home I took the dessert out of the freezer, warmed up the soup and put the salad together.  I even had time to vacuum! With Maggie that's a must!
We started with a mixed green salad with pears, dried cranberries, goat cheese and pistachios with a choice of dressings. Then I offered two soups – Hearty Italian Soup and Black Bean and Mushroom (Vegetarian) Chili.  Everyone decided to try both!  I served the soup with fresh grated parmesan cheese.  For the chili I had sour cream and monterey jack cheese as toppings.
Finally for dessert we had Yogurt Pie.  This is one of my mom's recipes. The original recipe calls for strawberry yogurt, but you can use any flavor.  I used cherry pomegranate, just 'cause it sounded yummy.  I can imagine that peach, blueberry or even banana would be delicious too.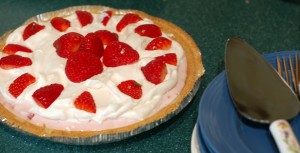 Yogurt Pie
Ingredients:
1 graham cracker crust
2 containers strawberry yogurt
1 8oz container of cool whip, defrosted.
Strawberries
Instructions:
Mix the yogurt and 3/4 of the cool whip together. (Refrigerate the rest of the cool whip)
Chop half the strawberries and stir into the yogurt mixture.
Pour the mixure into the pie crust.
Cover the pie and freeze overnight.
Take the pie out of the freezer two hours before serving.
Just before serving, spread the remaining cool whip over the pie and top with sliced strawberries.