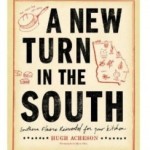 A few years ago Hugh Acheson was a name only known in Athens, Georgia (and foodie circles in Atlanta). But only two years after opening his 'Five and Ten' restaurant, he was named one of Food and Wine's Best New Chefs in America. Subsequent James Beard award nominations, more restaurants  (including one in Atlanta – yea!) and now, appearances on Bravo's 'Top Chef' have given him a nationwide audience.  So I was excited to review his new cookbook  A New Turn in the South – Southern Flavors Reinvented for your kitchen.  It did not disappoint. What I found was a great gift idea for the foodie friend (or wanna be) on your list.
You know I'm one who likes to read cookbooks and this book's casual conversational style makes it a great read.  You could just look up recipes, but I'd urge you to read this cookbook, so you don't miss Hugh's hints, commentary and wit. In the introductions to the recipes Hugh provides great information on techniques and ingredients – making the recipes accessible to home cooks of all proficiencies.  There are great basics – such as breadcrumbs, stocks and vinaigrettes  as well as more complicated recipes.  What is clear, throughout, is Hugh's committment to cooking local seasonal food.  It's evident he loves what he does.
But, to me, the most important question is – does this cookbook have recipes that I can duplicate.  The answer is YES!  As I read this book, I attached post-it notes on recipes I wanted to try or notes I wanted to remember.  Let me tell you, there are post-its sticking out my copy everywhere – Southern Carbonara – Hugh's Lobster Pie – Corn Soup with Vanilla Bean, Coconut Milk and Lobster – Bacon wrapped, Fennel stuffed trout with hot pepper vinaigrette – Shrimp with andouille and hominy grits – Six Compound Butters……  One of the recipes I wanted to try was Roasted Cauliflower Soup. I finally got the opportunity to make it last week and I loved it! Now, I don't have a highpowered blender, so mine probably didn't come out quite as smooth as the recipe suggests- but the taste was wonderful! AND I now have a new favorite way to cook cauliflower – roasting it – what great flavor.  I can see repeating this recipe alot over the next few months. What a perfect addition to our Christmas Day Dinner.
Here's my result: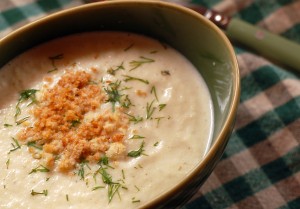 A New Turn in the South – Southern Flavors Reinvented for your kitchen is published by Clarkson Potter and is available on Amazon.
Disclaimer: I was provided with a complimentary copy of the cookbook from the publishing house.