Looking for a festive and easy holiday appetizer? I've got just the thing.
Brie – not just a slab of cheese, but jusshed up a bit (how DO you spell jusshed??). I like to slice off the top of the rind and add seasonal toppings. For the holidays I like to use chopped dried cranberries and shelled pistachios. The red and green just scream holiday.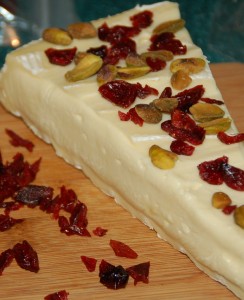 Other topping ideas?
chopped pecans and dried apricots (great for Thanksgiving)

chopped mixed herbs

sliced almonds 

raspberry or fig preserve
Brie is wonderful served on its own (for a few) or as a part of a cheese platter (for a crowd).  It can be served warm or room temperature. Just remember that it melts quickly in the microwave, so watch it carefully. When I melt brie, I serve it in a small round or au gratin dish.   Add a napkin lined basket of crackers and a spreader and you're all done.
btw – if you or a guest are lactose intolerant, try Goat Brie (available at Trader Joes).  
For more quick and easy appetizer ideas read here.