Last November I posted an entire series on Thanksgiving , called Thanksgiving 101.  I provided the how-to on all the holiday basics and ideas for other dishes to round out the menu, even a post on managing the logistics.  I realize, however, that not everyone has (or wants) 20 people for Thanksgiving dinner.  So, if your not having a crowd, how about serving a turkey breast?  A turkey breast is great to roast for a small group, for white meat lovers and when you think the turkey, alone, won't be enough.  I think day after sandwiches is a perfectly good reason to roast one!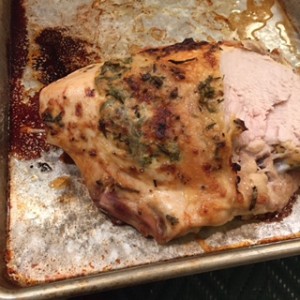 This recipe, using an almost 3 lb breast, is a combination of an Ina Garten rub and a different roasting method.  The rub is a mixture of olive oil, mustard, garlic and herbs, which is rubbed under and over the skin. Btw – I  was thrilled to find a page of poultry herbs (thyme, rosemary and sage) in my local grocery store. It sure saved me from buying three separate herbs. The breast is then roasted in an oven that has been preheated to 450 degrees, then lowered to 350 degrees, when the turkey is put in the oven.  This method encourages a crispy skin (which I LOVE!) and produces a moist breast, in a little over an hour.  Be sure to use a meat thermometer to make sure the turkey reaches 165 degrees when roasting.  Let the breast rest for 15 minutes before carving to allow the juices to return into the meat.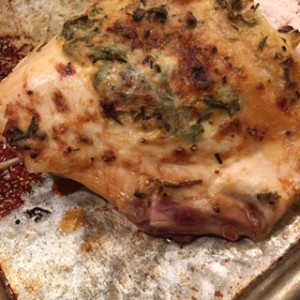 I love how crispy the skin gets!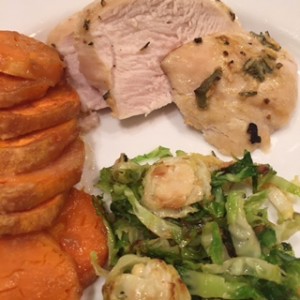 When I recently made this dish, I served it with sweet potatoes and sautéed shaved brussels sprouts.  Here are some other side dish ideas: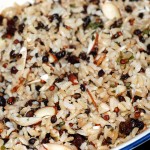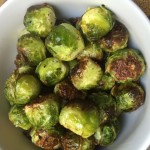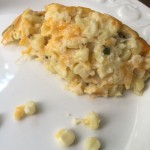 Herb Roasted Turkey Breast
Ingredients
2 Tblsp olive oil
1 Tblsp minced garlic
2 Tblsp dijon mustard (or 2 tsp dry mustard)
1 Tblsp chopped fresh rosemary
1 Tblsp chopped fresh sage leaves
2 tsp fresh lemon juice
1 tsp chopped fresh thyme leaves
1 1/2 tsp kosher salt
1/2 tsp black pepper
1 - 6 lb bone-in turkey breast
Instructions
Preheat oven to 450 degrees.
Mix all ingredients (except the turkey) into a paste.
Place the turkey beast on a rimmed sheet pan. Rub the paste under and over the turkey breast skin.
Turn the oven down to 350 degrees,
Roast the turkey until a meat thermometer, inserted in the breast, away from the bone, reaches 165 degrees. ( Approx 1 hour and 15 minutes - start testing after an hour.)
http://ascrumptiouslife.com/herb-roasted-turkey-breast/