I could live off soup in the winter.  It's so comforting especially on a rainy day, which we've had alot of lately. (Luckily, we are not anniversarying the nasty snow/ice storm Atlanta suffered through last January.) It can be made in big batches, stored in individual portions and ready for dinner in minutes!  AND it's easy to make.
To say I love this soup is an understatement.  I found the recipe in Southern Living magazine and I've made it three times this winter already! It's a great blend of mild italian sausage, onions, tomatoes, white beans, spinach and chicken broth. So, not only is it tasty, it's healthy too.  I used pork sausage, but I'm sure you could also use turkey or chicken sausage, to cut the calories even further.
I serve this with some easy cornbread.  I make a quick recipe using a boxed mix, substituting buttermilk for the regular milk and adding some salt, pepper and dried rosemary to the batter.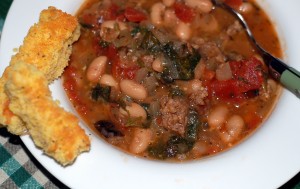 Hearty Italian Soup
Ingredients:
2 tsp olive oil
16 oz mild italian sausage (4 sausages)
1 large onion, diced
2 garlic cloves, minced
48 oz chicken broth (I use low sodium)
2 – 15 oz cannellini eans, drained and rinsed
2 – 14.5 oz cans diced tomatoes (not drained)
1 tsp dried italian seasoning
5 oz baby spinach
1/4 cup fresh parsley
1/4 cup fresh basil
Shaved parmesan cheese
Instructions:
Heat the oil over medium heat.  Cook the sausages in the oil in a Dutch oven, approx 7-8 minutes or until brown. (Do not rush this step by cooking on a higher heat or you'll have a crispy outside and a raw inside)
Remove the sausages , (reserving drippings) and drain on paper towels. Slice the sausages when cool enough to handle.
Saute the onion in the drippings unil tender, 3 minutes.
Add the garlic and cook for 1 minute longer.
Add the sliced sausage, chicken broth, beans, tomatoes and italian seasoning to the pot. Stir to combine.
Bring mixture to a boil then reduce the heat to medium-low and simmer for 25 minutes. Stir occasionally
Add the spinach, parsley and basil.  Cook for 5-6 minutes, stirring occasionally, until spinach is wilted.
Ladle the soup into bowls and top with parmesan cheese.