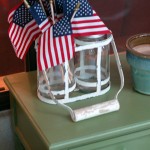 Happy Fourth of July everyone! 
I love this holiday and the 'cornier' the better.  The Fourth of July is time to celebrate americana – hot dogs, apple pie, fireworks, time with family and friends and the values that make this such a great country.  A special thank you to our military men and women, both active and veteran, who put themselves in harm's way to protect our way of life!!
Some of my favorite July fourths were spent in a little town in North Carolina.  A friend had a home on the mountain and I'd visit for the Fourth of July – to see her, of course, but also because of the local parade. To participate you only had to show up! There were vehicles of every kind, from a tractor with a big american flag, to pick up trucks with beach chairs in the back, to a riding lawnmower, to Mercedes convertibles – all decorated to the max. Participants, including the dogs, all wore red, white and blue proudly.  The first year we used crepe paper and balloons to decorate our car, but a sudden shower proved that plastic decorations were the way to go. (The next year we were much more prepared.) The parade made it's way around the mountain, horns honking.  Other residents lined the streets waving flags. The parade stopped by an local inn for a hot dog lunch – you can't get more all-american than that. What fun !!
This year I'm having a low key holiday at home, in Atlanta.  Last night I attended the Cumming, Ga fireworks. We cooked out at home and then headed to our viewing spot to meet up with friends.  I brought my OMG Brownies, Blueberry Crumb Bars, and Ginger Green Tea while we waited for the show to begin.
Tonight I'll watch fireworks again. The big Atlanta fireworks take place just down the street. So, I'm lucky that I have a good view without having to go anywhere.  Maggie, however, will be staying home – she doesn't like fireworks. But she'll be outfitted appropriately!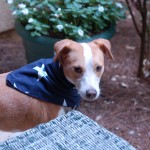 So, what are you doing today and what are you serving?  Whatever you're doing, I hope you enjoy your day!