September 3rd marked the 4th anniversary of my first post on a scrumptious life.  I can't believe it!!   My first post was Ginger Green Tea – my take on a beverage I'd enjoyed in Alys Beach, Florida. I wrote it because I was going to Food Blog Forum the following week and I was embarrassed to attend without having at least one post up. I arrived at the seminar and found that several of us had done the same thing!
Since then I've posted over 225 posts!  I've tried to be consistent about posting,  although sometimes life happens and I've taken a short break.  After all, this is a hobby, a labor of love.  Obviously most of the posts have been about food – although sometimes travel, tips, opinions and memories sneak in there too.
At the end of each year, I post an end-of-the-year recap (as do many bloggers) about your favorite posts.  As I reflect today, I decided to share my favorite posts from this year on a scrumptious life.  There's no real science to this list .  Some are the most delicious, some are the recipes I go back to the most, some mean the most to me.   Drum roll please……..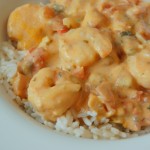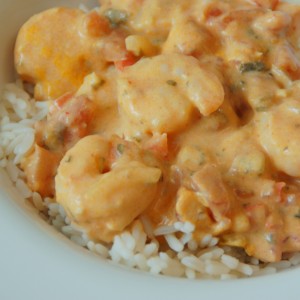 In June, I did a three-part series on Brazilian dishes, in honor of the World Cup – a cocktail, main dish and dessert.  They were all good – but the Brazilian Shrimp Stew was outstanding !!  (If I do say so, myself) ….. and now we're all set for an Olympics party menu in 2016.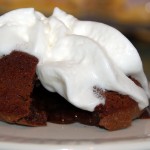 As you know, I'm admitted chocoholic.  So you knew they'd be at least one chocolate dish on this list. This recipe, from Jenny Steffens Hobick's blog Everyday Occasions, is fabulous.  It makes 12 muffin sized Chocolate Molten Cakes, which is the perfect size since they're  so rich. A chocolate cake outside with melty chocolate inside – mmmm.  I've served them several times including this party to rave reviews.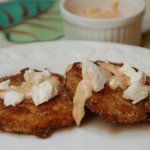 Probably my most anticipated recipe was the Fried Green Tomatoes recipe I saw, literally years ago, in Garden and Gun magazine.  I'd even shared it with a friend who got around to making it way before I did.  It did not disappoint!  Delicious on its own, with goat cheese and remoulade sauce….. it was also fabulous in a sandwich for National Bacon Day!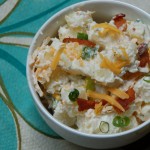 This summer I posted several basic southern picnic recipes –  Creamy and Texas coleslaw, Buttermilk Pie.  My favorite was the Potato Salad.  A simple dish featuring all the flavors you love from a loaded baked potato. A great basic to add to your repertoire.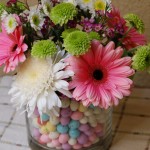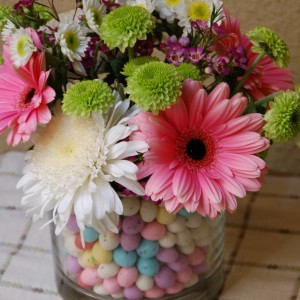 and last but not least……  an Easter flower arrangement  I made, based on one I'd seen on The Cavendar Diary.   Malted Easter eggs were placed between two vases for a whimsical, casual arrangement.  I intend to use this idea for holidays throughout the year.
So there you have it, my faves for the past year.  Thank you all for stopping by a scrumptious life!