Although my Mom is a great cook, cooking was not something we shared growing up.  I found myself graduating college and moving out on my own with a VERY small recipe repertoire. It was the eighties and I was sharing a house with three other women.  The only way to get the house to myself was to stay in on a Saturday night.  So I selecting some recipes from the Silver Palate cookbooks to try and started staying home with my tunes and a glass (or two) of wine and cook. In the beginning, I stuck strictly to the recipe.  After a while, I gained some confidence and started playing around with the recipes. Next thing you know I was even sharing my cooking with others!  So, I really credit the Silver Palate Cookbook and the Silver Palate Good Times Cookbook, written by Julee Rosso and Sheila Lukins, with getting me into cooking and entertaining.  I was lucky enough to meet Sheila Lukins during a class at Cooks Warehouse, on her last book tour.  She was asked about the Food Network and commented that it was a great catalyst for getting people interested in cooking.  I was excited to be able to thank her, personally, for doing that for me. Sadly, she passed away in 2009- but she left a legacy of grateful cooks, including myself.
Here's a recipe adapted from the Silver Palate Good Times Cookbook that I like to serve when it's hot outside.  I mean who wants something heavy  when it's almost 100 degrees?!  The original recipe called for Swordfish, but I've used Tuna, Sea Bass, you name it.  I've played with this recipe alot, using ground coriander (much less!) instead of fresh, substituting other herbs, using lemon or orange juice instead of lime juice. So while it's a good basic recipe , feel free to experiment!  After all, that's half the fun of cooking!
Grilled Fish, Marinated with Lime and Coriander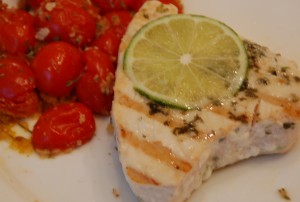 Ingredients:
3 lbs swordfish
Juice of 3 limes
Zest of 1 lime
1/3 cup olive oil
3/4 cup chopped coriander (cilantro), separated
unsalted butter
Lime wedges
Instructions:
Put the lime juice and zest, olive oil and 1/2 cup coriander in a gallon sized zip top bag and combine.
Add the fish and marinate for 1 hour.
Remove the fish and disgard the marinade.
Grill the fish, 3 minutes on each side or to desired doneness. Remember that the fish will continue to cook after it's removed from the grill- so don't over do it!
Place the fish on serving platter, topping with pats of butter and the remaining 1/4 cup chopped coriander.
Serve immediately with lime wedges.