Well Labor Day Weekend is here.  Up North, where I grew up, that meant the last weekend of summer.  However, in The South it means the beginning of College Football season (ie: Fall) – time for games, tailgating, sweatshirts….
Whoa Nelly  !!! (apologies to Keith Jackson) It's still 95 degrees here in Atlanta!  There's still lots of time to sip my favorite summer beverage – Green Ginger Iced Tea.
Every Fall, I take a few days for a  "just me" beach retreat on the Florida Gulf Coast.  Last year, I ate lunch at George's in Alys Beach.  They served a wonderful green ginger iced tea, that I immediately wanted to duplicate at home.  I found this recipe at foodandwine.com. It is so refreshing ! I hope you'll try it and ward off Fall for a little  while longer.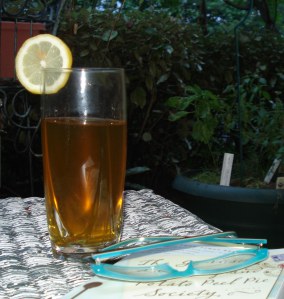 Green Ginger Iced Tea
Ingredients
1 cup water
1 cup sugar
3 inches of fresh ginger peeled and sliced
8 cups water
8 green tea bags
 Ginger Syrup –
In a small saucepan combine 1 cup water, 1 cup sugar and 1/2 the ginger and bring to a boil.
Simmer the mixture over moderate heat until the sugar dissolves.
Remove from heat and let steep for 30 minutes.
Strain the syrup.   (Syrup can be refrigerated for up to 3 weeks)
Green Ginger Tea –
In a large saucepan, combine the 8 cups of water and the rest of the ginger and bring to a boil.
Remove from heat, add the tea bags and steep for 6 minutes.
Strain the tea into a large bowl and let cool to room temperature.
Refrigerate tea until chilled.
Pour the chilled tea into a large pitcher.
Stir in 1 cup of the ginger syrup.
Serve in tall glasses over ice, with a lemon garnish. (Tea can be refrigerated in a covered pitcher for up to 2 days –  if it lasts that long!)