You know, since I posted it last year, my Margaritas for a Crowd post remains one of my most read posts.  So with Cinco de Mayo right around the corner , I thought you might like a dish to help soak up all those margaritas. This "Homestyle Green Chile Chicken Enchilada casserole" fits the bill.
I first enjoyed this San Francisco Chronicle recipe at a friend's house and knew I had to make it. It's hearty, creamy and full of chicken.  Instead of a canned enchilada sauce , this recipe calls for a homemade green chile sauce, which can be made in advance. And now, having eaten the leftovers, I must say that I think it's one of those dishes, like lasagne, that is better the next day.  So consider making the entire dish in advance and reheating it in the oven.  This recipe fits a 7×11 or 9×9 baking dish and easily serves 6. You can double it to fit a 9×13 dish, if you have a crowd.
btw – I used poached chicken for this recipe,but my Shredded Tex Mex Chicken would be perfect in this dish. Serve it with Salsa, jalepenos and sour cream on the side.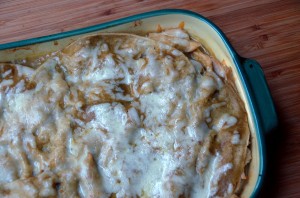 Green Chile Chicken Enchilada Casserole
Ingredients
Sauce

1 1/2 Tblsp canola or olive oil
1/2 small onion, diced
2 cloves garlic, minced
1 1/2 Tblsp flour
1 1/2 cups chicken broth
3 - 4oz cans , roasted green chiles

Assembly

9 - 6 inch corn tortillas
1 1/2 lbs poached chicken, shredded
8 oz monterey jack cheese, shredded
Instructions
Sauce

Pour the oil into a saucepan and heat to medium high.
Add the onions and garlic and saute until soft, 5 minutes.
Add the flour, stir to combine and cook briefly.
Whisk in the chicken broth slowly, to avoid lumps.
Add the chiles and bring the mixture to a boil.
Cover the saucepan, reduce the heat and simmer for 15 minutes to thicken.
Season to taste with salt.
If making ahead, cover and refrigerate, until ready to use.

Assembly

Preheat the oven to 325 degrees F.
Ladle 1/4 of the sauce into the bottom of the baking dish.
Dip three tortillas into the remaining sauce and place in the baking dish.
Top the tortillas with half the shredded chicken, 1/3 of the remaining sauce and 1/3 of the shredded cheese.
Repeat layers of 3 tortillas, the remaining chicken, 1/2 the remaining sauce and 1/2 the remaining cheese.
Top with a third layer of tortillas, rest of the sauce and cheese.
Bake for 30-35 minutes until the cheese is melted and mixture is bubbly.
http://ascrumptiouslife.com/green-chile-chicken-enchilada-casserole/