My mom has been telling me about this recipe for grape chutney for some time now.  Frankly, I wasn't too sure about it. Well, not any more.  I finally tried it during a recent visit to see her.  Delicious and such a change of pace! I decided to share this chutney recipe now because I think it would be terrific with your Easter Ham.
This is a versatile dish. A wonderful complement  to my Picnic Chicken or Cornbread Crusted Pork Chops, it would also be delicious in a panini. For a quick appetizer, just blend equal amounts of chutney and mayonnaise in a blender.
This recipe make 2 quarts! Luckily, it freezes well. It also makes a nice food gift idea.  I hope you'll give it a try!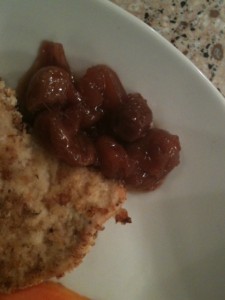 Ingredients
2 lbs seedless grapes, green or red, washed and destemmed
3 ripe pears, peeled, cored and chopped
1 whole lemon, well scrubbed, with ends removed, seeded, and chopped in food processor
2 cups light or dark brown sugar
2 cups white or cider vinegar
1 cup chopped onion
1 garlic clove
2 tsp salt
1 1/2 tsps dried ground ginger
1 1/2 tsps curry powder
Instructions
Place all ingredients in a large heavy pan and bring to a boil.
Simmer, uncovered for one hour, or until mixture thickens and lemon is tender, stirring occasionally.
Pour into sterilized jars, cool and refrigerate OR freeze after cooling.
Serve as prepared or use as a dip
Notes
For a dip: Place equal portions of chutney and light mayonaise in a blender and process until smooth.
http://ascrumptiouslife.com/grape-chutney/
from mom