A few weeks ago, when I was on vacation, I stopped by a Trader Joes to get supplies and came across their Nutty Grain Salad.  Well- I've gone back for it three times since – a little obsessed??!!  Perhaps…..   I thought "this is a great gluten free option!"- Wrong !!!  It includes spelt, which I found is wheat, albeit is a less offense wheat, (if there is such a thing) but still wheat…. and the dressing includes soy sauce – a big gluten offender. RATS!!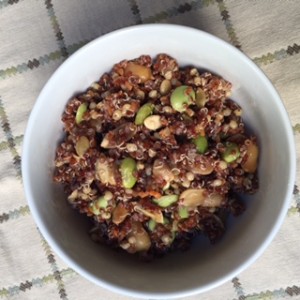 So this weekend I decided to make a Gluten Free version.  My version has the same red quinoa and substituted sorghum for the spelt.  Like spelt, sorghum is a nutty tasting grain and it's gluten free. I used Bob's Red Mill from Whole Foods.  Copying TJ's original, I added unsalted roasted peanuts, pumpkin seeds, edamame and finely grated carrots.  In the original there are teeny weeny, itty bitty diced carrots – don't ask me how!!!  I decided to use the  smallest size on a box grater for the carrots – worked just fine.
For the dressing, I whisked up canola oil, rice wine and apple cider vinegars, lime and pomegranate juices, honey, sriracha and some grated ginger.  I omitted the soy sauce and added a little salt and pepper instead.  Since it's not mayo based it's perfect for summer picnics.
The result is delish!!  and my foodie friends agree!  It just may become your summer obsession too.
This recipe makes 6 cups – that's 12 big portions or more for a buffet. This is one of those salads best made ahead to allow the flavors to meld – which is good because you will have a couple of pots going at once to cook up the grains and edamame.  I prefer it at room temperature than cold, and it's tastes great warmed up too.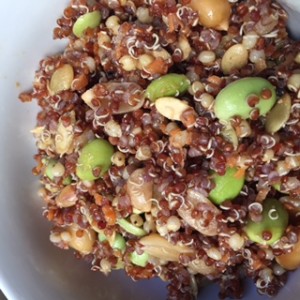 Gluten Free Nutty Grain Salad
Ingredients
1 cup uncooked red quinoa
1/2 cup uncooked whole sorghum grain
1 1/2 cups roasted unsalted peanuts
1/2 cup unsalted pumpkin seeds
1/2 cup finely grated raw carrots
1/2 cup cooked edamame

Dressing

2 Tblsp pomegranate juice
1 Tblsp lime juice
1 Tblsp rice wine vinegar
1 Tblsp apple cider vinegar
1/2 Tblsp honey
1 tsp sea salt
1/2 tsp pepper
1/2 tsp sriracha
1/4 tsp finely grated fresh ginger
1/2 cup canola oil
Instructions
Cook the quinoa and sorghum grains, separately, according to package directions. Drain and cool completely.
Combine the cooled grains, peanuts, pumpkin seeds, edamame and carrots in a large bowl.
Whisk together all the dressing ingredients, except the oil.
Stream the oil into the dressing, whisking continuously.
Add the dressing to the salad and stir to coat.
Refrigerate until ready to serve. Serve at room temperature or warmed up..
http://ascrumptiouslife.com/gluten-free-nutty-grain-salad/