So how many of you have a bamboo steamer?  Maybe in that cabinet over the refrigerator where you keep seldom used kitchen apparatus?  That's where mine was when I "fished" it out for today's recipe. ( Ha – I crack myself up!)  I bought it to steam dumplings, but haven't used it in some time.   Like many of you, I'm starting off the year trying to be a little more conscious of my eating habits – so I thought I'd use my bamboo steamer for Ginger Steamed Fish.  It's so easy!
First. you have to find a pot to place the steamer over.  A wok is best, as it's shape keeps the steamer in the perfect position for steaming.  But I don't have a true wok.  So I ended up putting a steamer insert into a dutch oven and placing the steamer basket over that.  The trick is the bottom of the basket can't hit the water you put in the bottom pot.  Anyway, so I put about two inches of water in the dutch oven along with a little soy sauce.  You can also use stock, a little O.J., or other seasoning. If I'd had fresh ginger I'd have sliced it and added it to the water/soy mixture.  I turned the heat up to high to get the liquid boiling.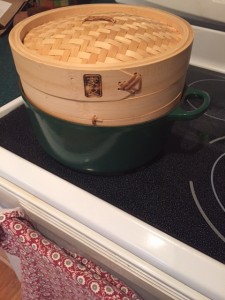 Meanwhile I set up the fish.  I lined the basket with parchment paper so the fish doesn't permeate the steamer (and flavor whatever you steam next).  Then I put in a handful of spinach leaves and placed a fish fillet (I used cod) over the spinach.  I spread a little minced garlic and ginger puree over the fillet, put the top on the steamer and, placed the steamer over the dutch oven and let it steam for about 10 minutes.  Steaming time will vary based on the type and thickness of your fillet, so start checking for doneness after 5 minutes.  If you desire, use additional bamboo levels for veggies and cook your whole meal at once!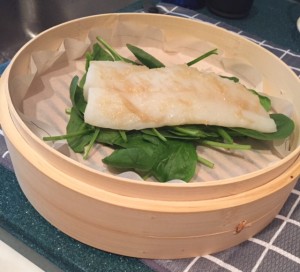 How easy and healthy is that! One you've tried it once, I'm sure you'll come up with all kinds of yummy combinations.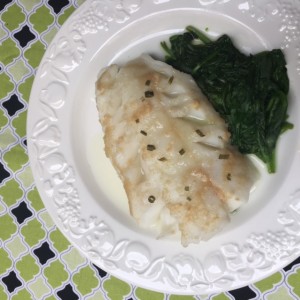 Ingredients
1 cup spinach leaves
1 cod fillet
1 tsp ginger paste
1/4 tsp minced garlic
1 tsp soy sauce
Instructions
Bring two inches of water and 1 tsp soy sauce to a boil.in a heavy pot.
Line a bamboo basket with parchment paper. Place the spinach over the parchment, then layer the fish, ginger and garlic over the spinach.
When water is boiling, reduce the heat to medium, place the lidded steamer basket over the pot and steam for 5-10 minutes, depending on thickness of the fillet. Check for doneness after 5 minutes.
http://ascrumptiouslife.com/ginger-steamed-fish/